Here's a great recipe to make with kids! These No-Bake Mummy Biscoff Buckeyes are quick, cute, and secretly healthy.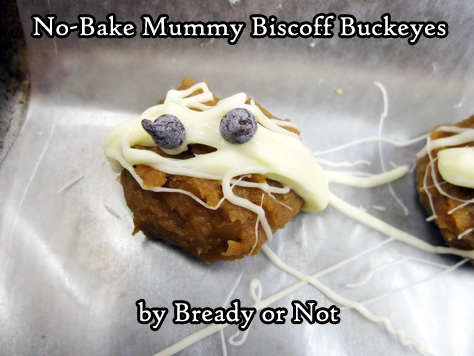 Buckeye treats typically include peanut butter and brown chocolate. I switched in Biscoff (aka cookie butter, available by the peanut butter in most American grocery stores these days) but you can use peanut butter instead.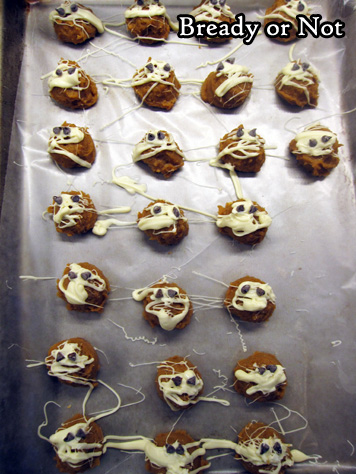 What makes these secretly healthy, you ask, since I made them unhealthier with cookie butter? Well, the base ingredient of this recipe is… CHICKPEAS. Also known as garbanzo beans.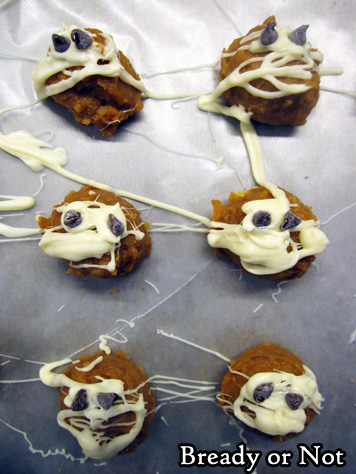 You cannot tell there are beans in this. All you taste is Biscoff and chocolate. They keep in the fridge for up to a week, too; they get a little sweaty, that's it.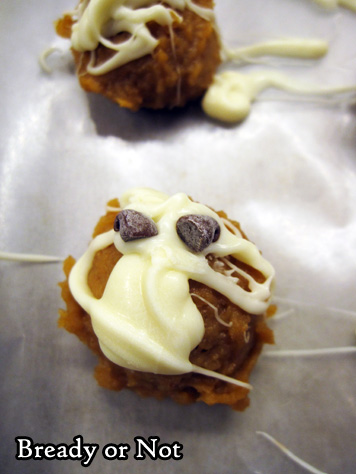 The white chocolate drizzle is pretty fun. There's no art to it. Just drizzle every which way, then very quickly add the mini chocolate chip eyes. (Hopefully your mini chips won't have bloomed like mine did! That means the chocolate has a white cast to it. Perfectly fine to eat, it just doesn't look as pretty. FYI Mummies don't care about being pretty.)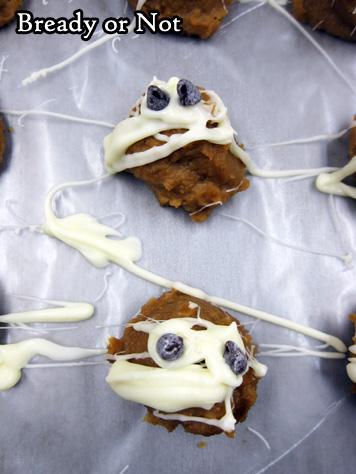 Modified from Cooking Light October 2017.
Bready or Not: No-Bake Mummy Biscoff Buckeyes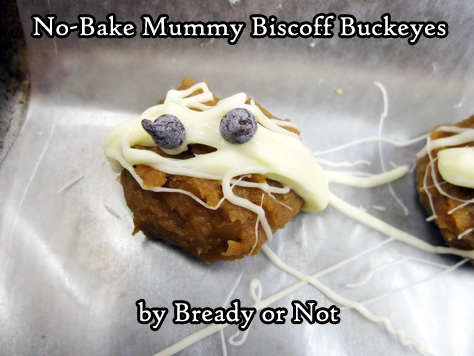 These one-bite treats secretly contain chickpeas, but all you taste is cookie butter and chocolate. You can substitute peanut butter for the Biscoff. Recipe makes about 24 mummies using a teaspoon scoop.
1 15.5-ounce can of chickpeas/garbanzo beans, rinsed and drained
1/2 cup cookie butter (Biscoff, Speculoos, store brand, etc)
2 Tablespoons honey
1/2 teaspoon vanilla extract
1/4 teaspoon kosher salt
1/3 cup white chocolate chips
2 teaspoons mini chocolate chips
Pulse chickpeas in a food processor until smooth. Add cookie butter, honey, vanilla, and salt, and pulse more. Use a teaspoon scoop to measure out the dough; place on a wax paper-lined baking sheet that will fit in the fridge. Use hands to smooth out each ball. Chill until firm, at least 30 minutes.
Carefully melt white chocolate in the microwave at 20% power in 15 second bursts, stirring well between each pass, until it's smooth. Dip fork prongs in the chocolate and drizzle back and forth over the buckeyes to create a mummy bandage effect. Immediately place two mini chocolate chips for eyes on each mummy head. If need be, melt white chocolate again to use some dots of it as glue for the eyes.
Store in the fridge for up to a week, but expect them to sweat and get moister.
OM NOM NOM!
Read More
October is here, and that means pumpkin recipes! Let's kick things off right with Pumpkin Cookies with Penuche Frosting!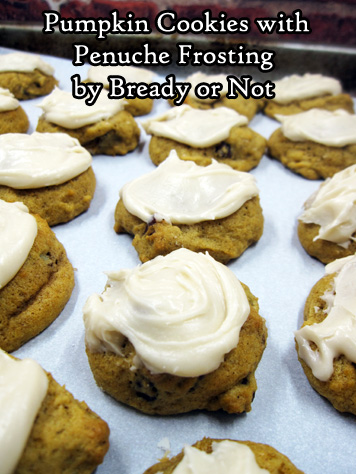 What is penuche, you ask? It's a fudge-like candy made from brown sugar, butter, and milk. It has a very caramel-like vibe going on.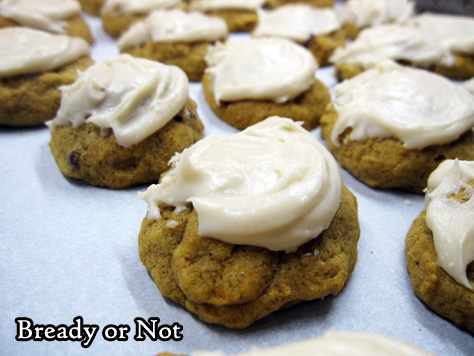 That makes it the perfect complement for these incredible cookies. The pumpkin-filled base is soft and cakey, with fragrant fall spices.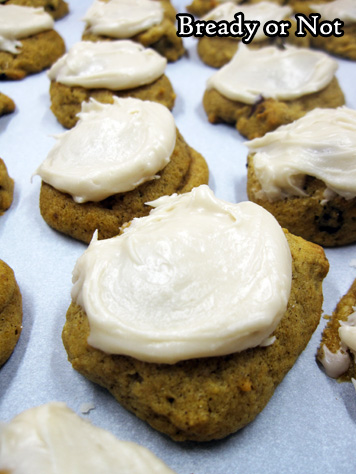 These are really, really good. Pumpkin, spices, penuche. Oh yeah.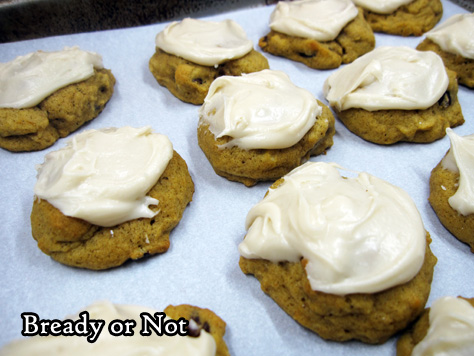 The recipe makes about 60 cookies if you use a teaspoon scoop, and they hold up best if eaten in one day. They get softer after that, but are still good.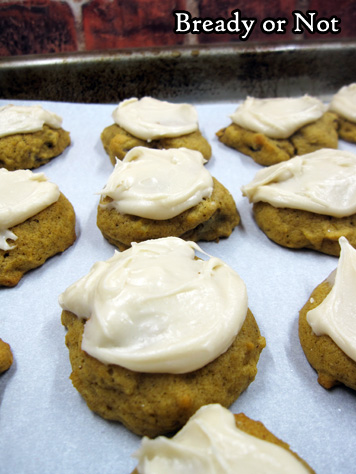 Recipe modified from Taste of Home magazine.
Bready or Not: Pumpkin Cookies with Penuche Frosting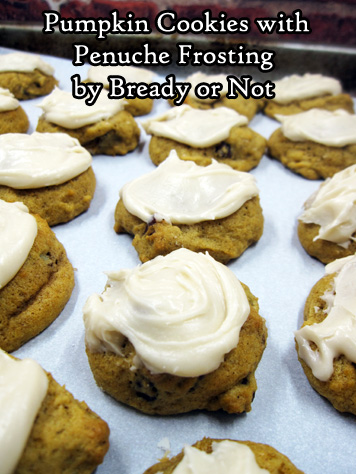 These super-soft cookies are full of pumpkin and spice flavor, with caramel-flavored frosting to add just the right amount of sweetness. Best eaten within one day.
Cookies
1 cup (2 sticks) unsalted butter, softened
1/2 cup white sugar
1/2 light brown sugar, packed
1 large egg
1 cup canned pumpkin
2 teaspoons vanilla extract
2 cups all-purpose flour
1 teaspoon baking powder
1 teaspoon baking soda
1 teaspoon ground cinnamon
1/2 teaspoon salt
3/4 cup chopped pecans
Frosting
1/4 cup brown sugar, packed
3 Tablespoons butter
1/4 cup milk or half & half
2 1/2 to 3 cups confectioners' sugar
Preheat oven at 350-degrees. In a large bowl, cream butter and sugars together until they are light and fluffy. Beat in the egg, pumpkin, and vanilla.
In a separate bowl, sift together the flour, baking powder, baking soda, cinnamon and salt. Gradually mix the dry ingredients into the wet. Fold in the pecans.
Spread parchment paper on two large baking sheets. Drop dough by rounded teaspoon scoops spaced out to allow for a small amount of spreading. Bake for 9 to 11 minutes. Move cookies to wire racks to cool, which won't take long.
Meanwhile, in a small saucepan, bring the brown sugar and butter to a boil. Keep on medium heat for 1 minute, continuing to stir, then remove from heat. Cool for 10 minutes. Transfer to a larger bowl and beat in the milk. Slowly add in enough confectioners' sugar to reach a spreadable consistency. Immediately frost cookies. Let set for an hour or so before packing up.
Makes about 60 cookies. Best eaten within 1 day; they will still taste okay after that, but will soften more. Store cookies between wax paper layers in sealed containers.
OM NOM NOM!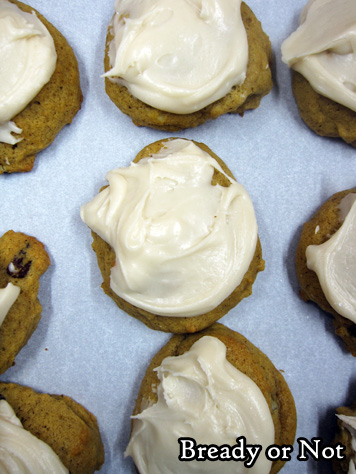 Read More