The Rhysling Award is the biggest award for genre poetry. Weirdly enough, I had three of my poems nominated this year, one in the short poem category, two for long.
Even weirder, my short form poem placed third. In a three-way tie!
---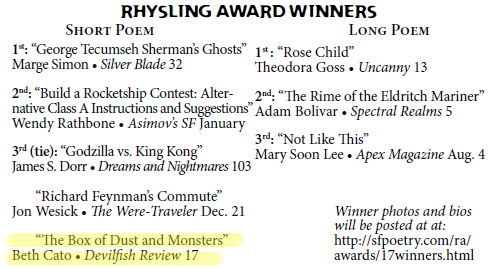 ---
I'm tickled by the whole thing. Who'd a thunk it? You can read "Box of Dust and Monsters" over at Devilfish Review.
#SFWAPro
Sign Up for the Cato Log
Important News
OUT NOW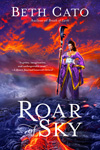 ROAR OF SKY (#3 in Blood of Earth trilogy), print & ebook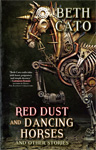 RED DUST AND DANCING HORSES AND OTHER STORIES (short story and poetry collection) (print and ebook) Fairwood Press | Amazon Paperback & Ebook | B&N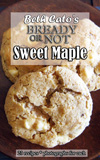 BREADY OR NOT: SWEET MAPLE COOKBOOK, $1.99 Kindle Exclusive
###
EVENTS
None scheduled at this time.
My tweets
Badges