If you like some saltiness with your sweet, oh, do I have the cookies for you: Caramel Pretzel Chocolate Chip Cookies.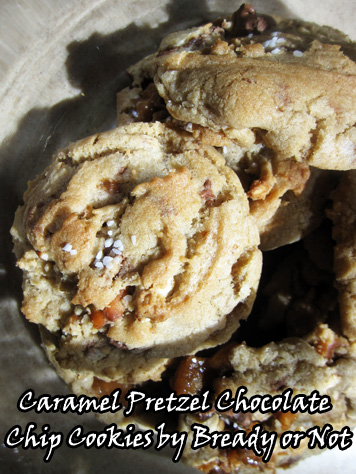 As you might imagine, my husband's co-workers get to taste a wide variety of cookies from me. But these, several declared, 'were the best cookies they'd ever placed in their mouths.'
I consider that pretty high praise.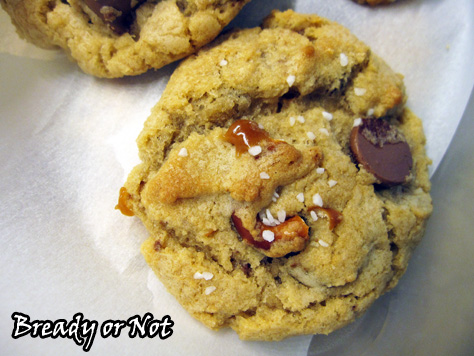 What makes these cookies different is the combination of flavors and textures. The pretzels add a lot here–bits of crunchiness and saltiness that is lovely cuddled with chocolate and caramel.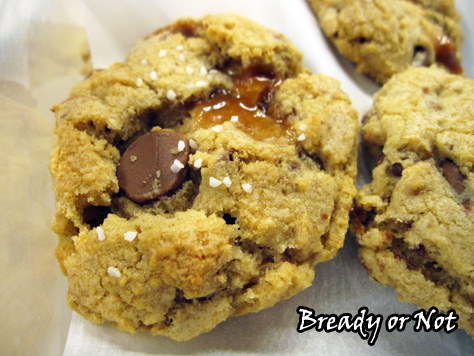 You can use whatever candy bars you want in this. I used Hundred Grands, but you can go for anything with chocolate and caramel, like Twix. Or you can use more chocolate chips and caramel bits.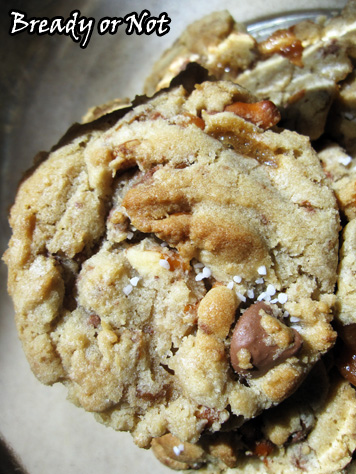 You could play with the chocolate, too, and use whatever kind you want: milk, semi, dark. Or use a combo.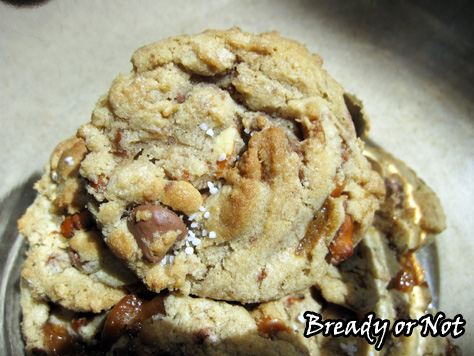 Whatever combination you choose, I hope you'll consider these among the best cookies you've put in your mouth, too.
Modified from Two Peas and Their Pod.
Bready or Not: Caramel Pretzel Chocolate Chip Cookies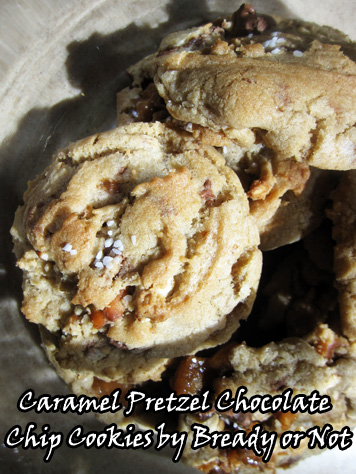 These mind-blowing cookies combine salty, sweet, and crunchy in an extraordinary way. Choose whatever caramel-chocolate candy bars you want here, or add in chocolate or caramel bits; use whatever types of chocolate chips you want, too. Any combo will be fantastic.
1 cup chopped pretzels
1 cup chopped caramel-chocolate candy bars (about 6 ounces)
3 cups all-purpose flour
1 1/2 teaspoons baking powder
1 teaspoon baking soda
1 teaspoon sea salt
1 cup (2 cubes) unsalted butter, room temperature
1/2 cup white sugar
1 1/2 cups brown sugar, packed
2 large eggs, room temperature
2 teaspoons vanilla extract
1 cup chocolate chips
extra sea salt or pretzel salt to sprinkle on top
Prepare your add-ins. Use a food processor (or chop by hand) the pretzels and candy bars. Set aside.
In a medium bowl, sift together the dry ingredients: flour, baking powder, baking soda, and salt. Set aside.
Preheat oven at 350-degrees. Prepare a cookie sheet by greasing well or lining with parchment. (Remember, melted caramel can get sticky.)
In a large bowl, cream together the butter and both sugars until light and fluffy. Add the eggs and vanilla extract. Gradually add in the dry ingredients. By hand, stir in the chocolate chips, pretzels, and candy bars.
Use a tablespoon to dole out dough balls onto cookie sheet, taking care to space them out; try to tuck visible caramel inside the dough to prevent too much oozing. Sprinkle some salt on top of the cookies.
Bake for 10 to 12 minutes. Let cookies set on sheet for about 10 minutes before moving to a rack to finish cooling.
Store cookies in a sealed container between layers of waxed paper or parchment. Keeps well for up to 5 days.
OM NOM NOM!