My slow cooker is my friend, and in this case my friend heats up some fantastically flavorful chicken that's good in all sorts of dishes!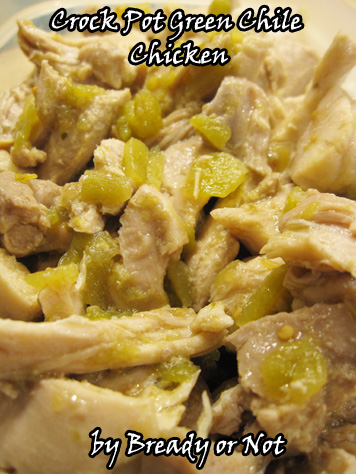 This recipe is a cousin to my Verde Pork Loin one. Both make a great protein for salads (my preference), tacos, burritos, casseroles, and likely all other sorts of stuff.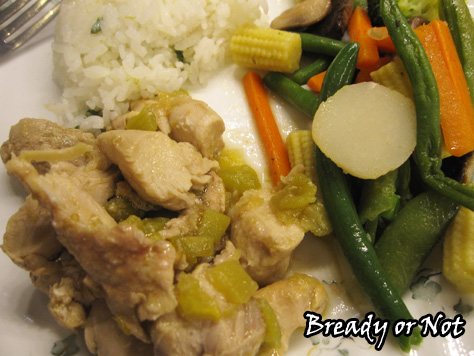 Don't be afraid of the chiles here, either. I was for years. A standard can of green chiles is pretty mild and adds a punch of flavor. If you're feeding people who can take the heat, by all means, use the hot version! We favor the Hatch brand because my husband used to live in Las Cruces, near the Hatch Valley; it's good to support New Mexico products, in any case.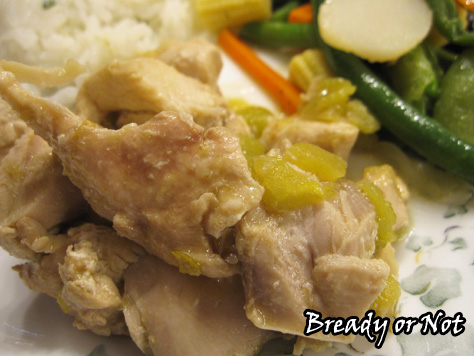 And yes, you can make this with chicken breasts or tenders, but there's greater risk of the meat drying out. I much prefer to use boneless thighs in the crock pot.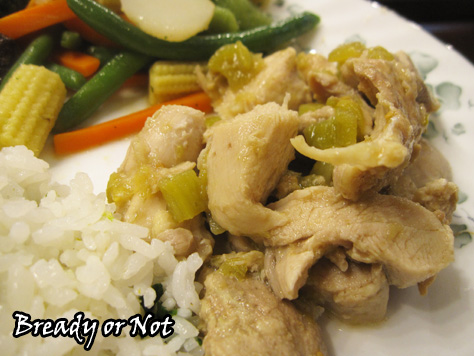 Modified from The Perfect Pantry.
Bready or Not: Crock Pot Green Chile Chicken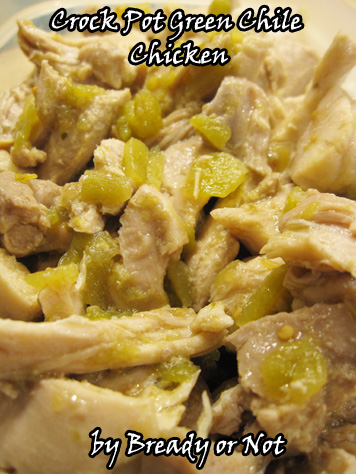 Use boneless chicken thighs to create a flavorful, fantastic protein that's good on a plate or in burritos, tacos, salads, and more. It freezes well for later eating, too!
about 3 lbs boneless, skinless chicken thighs
16 ounce jar verde (green) salsa
2 cloves garlic, smashed
1 tsp ground cumin
4-oz can roasted Hatch green chiles, mild or hot
Cut the chicken thighs into thirds and place in a 4 to 6 quart slow cooker. Pour the salsa over them, followed by the garlic, cumin, and canned chiles. Give it a stir then pop the lid on.
Cook on low for 4 to 5 hours; if the chicken was still a little frozen, cook on high for an hour or so to speed the process. Use a slotted spoon to remove chicken pieces, and shred or cut them into chunks. Place back in crock pot to soak in juice for another 20 minutes.
Serve chicken on a plate, or in burritos, tacos, salads, or just about anything. Freezes fantastically for later dining.
OM NOM NOM!