After Christmas last year, I scored a whole stack of fruitcake fruit containers for 80% off on the grocery clearance aisle. I already had recipes in mind for the fruit, and this is one of them.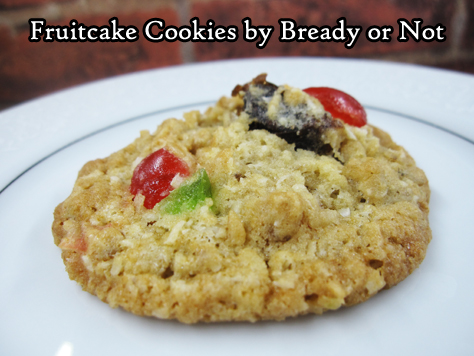 These Fruitcake Cookies are essentially good old fashioned chewy oatmeal cookies with new mix-ins. Really good mix-ins.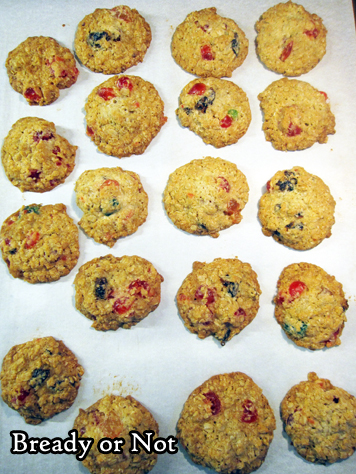 Really, these are pretty and rustic cookies to behold. The red and green cherries look like sparkling jewels. I was surprised at how well the dates worked, too; they were meatier and softer than the usual raisins.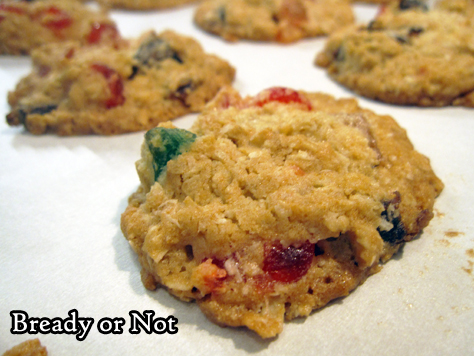 Plus, there's a comfort food vibe around these cookies. They look like a variation of oatmeal cookies, but the different fruit gives them a distinct holiday vibe.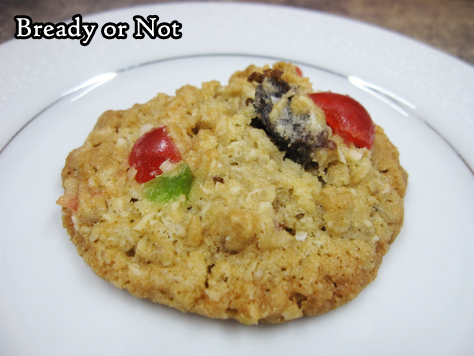 Of course, if you're like me and use fruit snagged on a post-Christmas sale, that might be a holiday vibe in January or February. But hey, good cookies shouldn't be confined to any one season.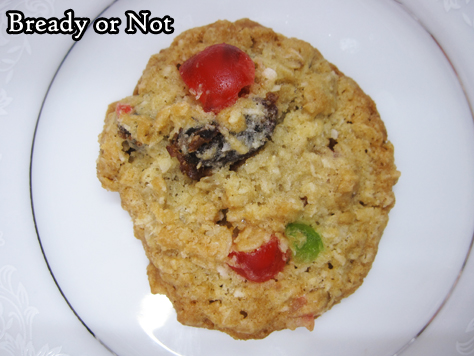 And these are definitely good cookies.
Modified from Taste of Home Best Loved Cookies & Bars.
Bready or Not: Fruitcake Cookies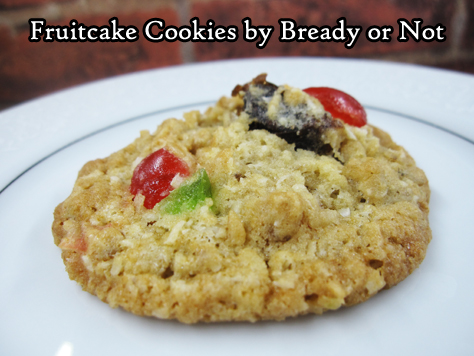 This recipe is a fantastic way to use fruitcake fruit mix up without the fuss and time investment of making fruitcake! These are like chewy oatmeal cookies with soft nuggets of fruit.
1/2 cup (1 stick) unsalted butter, softened
1/2 cup shortening
1/2 cup white sugar
1/2 cup brown sugar, packed
1 egg
1 teaspoon vanilla extract
1 cup all-purpose flour
1/2 teaspoon baking soda
1/2 teaspoon salt
2 cups old-fashioned rolled oats
1 cup flaked or shredded coconut
1/2 cup chopped dates
1 1/2 cups (about 12 ounces) fruitcake fruit mix with chopped red and green cherries, pineapple, etc
Preheat oven at 325-degrees. Line cookie sheet with parchment paper.
In a large mixing bowl, cream together butter, shortening, and sugars. Add egg and vanilla.
In a smaller bowl, sift together flour, baking soda, salt, and oats. Gradually mix into creamed ingredients. Stir in the coconut, dates, and other fruit.
Use a tablespoon scoop to place dollops of dough on parchment paper, giving them space to spread. Bake for about 15 minutes. Set on rack to cool. Store cookies in a sealed container at room temperature.
OM NOM NOM