These super-easy bars are packed with chocolate and minty goodness.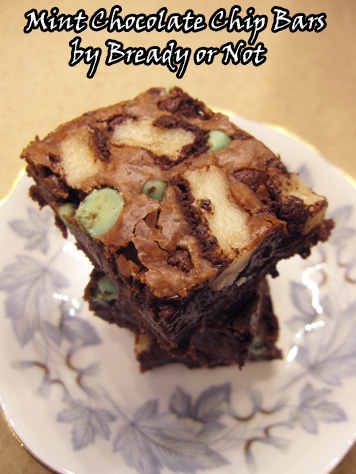 My husband's favorite flavors include snickerdoodle, lemon, and chocolate mint. I figured I was overdue to revisit that last flavor.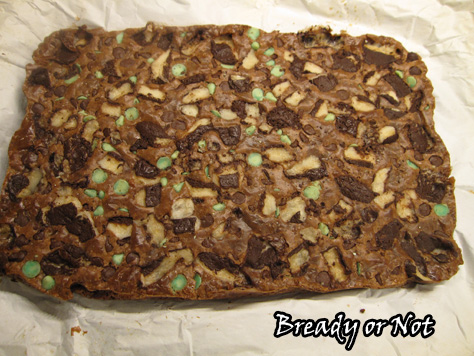 I had a bag of dark chocolate and mint chips I picked up on holiday clearance. Therefore, I used that whole bag to account for the 1 cup of dark chocolate and 1 cup of mint chips. You could easily do this with chocolate from separate bags or even use more York Patties to substitute for the mint chips.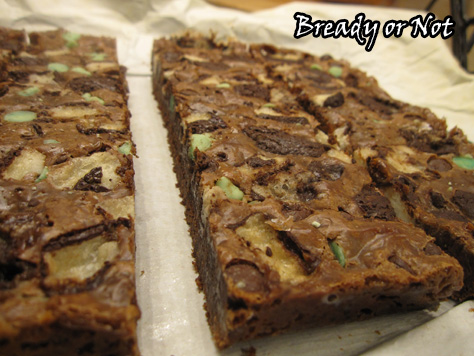 The basic fact is, you want a variety of dark chocolate and mint chocolate, and there are a lot of paths to achieve that. I do like the mix I used here–it's pretty!
Not only is it photogenic, but it's pretty darn tasty, too.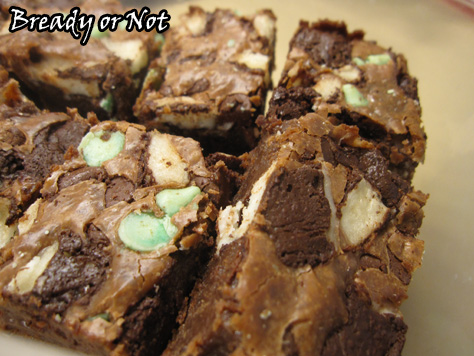 Modified from Chocolate Chips Bars at Roxana's Home Baking.
Bready or Not: Mint Chocolate Chip Bars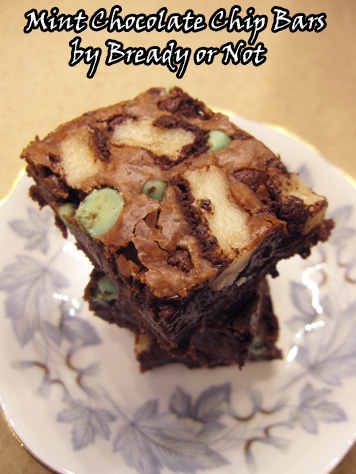 Decadent yet easy-to-make mint chocolate chip bars.
1 3/4 cup all purpose flour
1/4 cup cocoa powder, sifted
1 cup sugar
1/2 cup butter
1 egg
1 can (14 oz) sweetened condensed milk
1 cup dark chocolate chips
1 cup mint chocolate chips
1 cup York Peppermint Patties (or similar), chopped
Preheat the oven to 350-degrees. Line a 13x9 baking pan with parchment paper or aluminum foil and apply nonstick spray.
In a food processor or mixer, add the flour, cocoa, sugar, butter and egg. Mix for a few minutes, until it resembles coarse crumbs. Scoop out 3/4 cup and it aside.
Take the rest of the cookie dough out and press it into the prepared pan. Bake for 10 minutes.
Meanwhile, melt the 1 cup of dark chocolate (microwave or stovetop), then mix it with the can of condensed milk and the reserved cookie dough. This creates a thick, muddy batter.
Remove the partially-baked crust from the oven and gently spread the chocolate mix over it as evenly as possible. Sprinkle the mint chips and chopped York patties over the top.
Bake for another 25 minutes. Let it cool completely in the pan before using the parchment/foil to lift it out of dish for easier cutting.
OM NOM NOM!