If you need a dessert that is no bake and no fuss, here's a pie recipe to come to the rescue: No Bake Chocolate Peppermint Pudding Pie!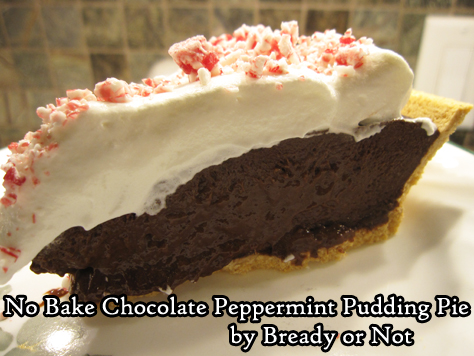 This is chocolatey. Minty. Smooth. All the things.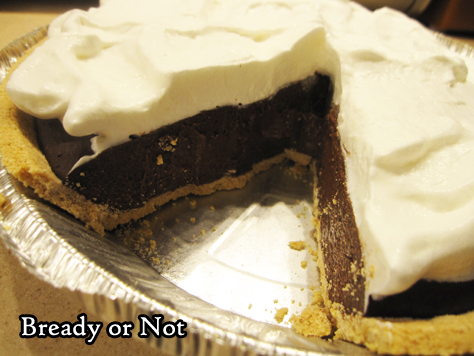 The filling works with either graham cracker or Oreo crusts. You can't go wrong with either, honestly.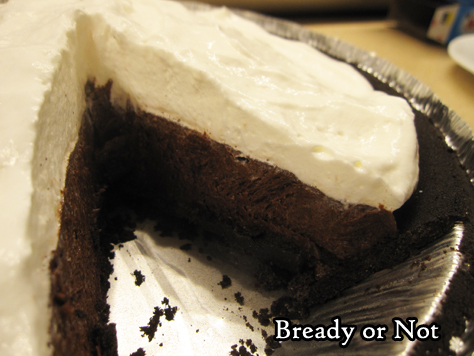 There is something liberating about a good no-bake pie at this time of year. Oven space is at a premium–as is time. This pie comes together in about 15 minutes or so, depending on the speed of your burners.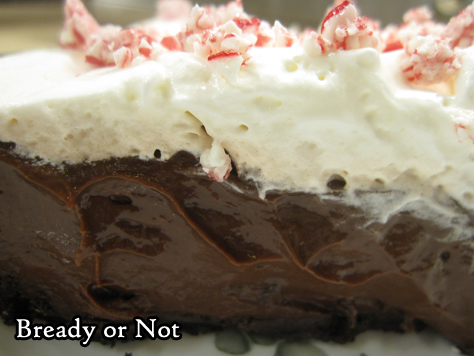 Bready or Not Original: No Bake Chocolate Peppermint Pudding Pie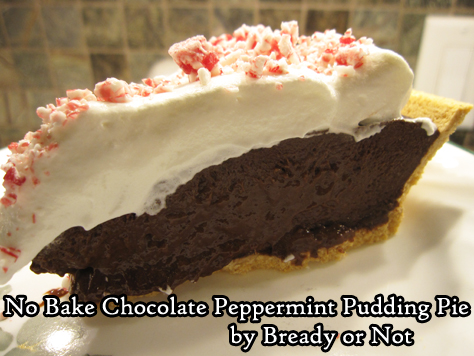 This easy no-bake pie requires short cooking time on the stove to create a delicious dessert. A Bready or Not Original.
1 graham cracker or Oreo pie crust
2 (1.3-ounce) boxes chocolate fudge or other chocolate pudding (NOT instant)
3 Tb cocoa powder, sifted
1 teaspoon white sugar
2 1/2 cups milk
1 Tb vanilla extract
2 teaspoons peppermint extract
1 Tb butter
4 ounces Cool Whip (about half small container)
crushed peppermint, optional
Set out the crust so that it's ready.
In a large saucepan at low heat, whisk together the two packs of chocolate pudding along with the cocoa powder, sugar, milk, and both extracts. Stir until it becomes smooth and thick, about 5 to 10 minutes.
Turn off the heat and add the pat of butter, whisking until the pudding is silky. Pour everything into the pie crust.
Allow to cool for a few minutes, then place it in fridge to set overnight (or place in freezer for a few hours, then set in fridge to thaw a few hours more).
Cover the top with Cool Whip. Adorn individual pieces with peppermint bits, if desired.
OM NOM NOM!