Let's continue a healthy theme for another week with Soft Muesli Breakfast Cookies!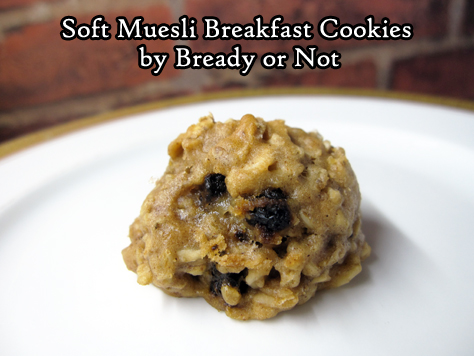 Think of these like plump little oatmeal cookies. The texture is cakey and thick, and will otherwise vary depending on the muesli you use.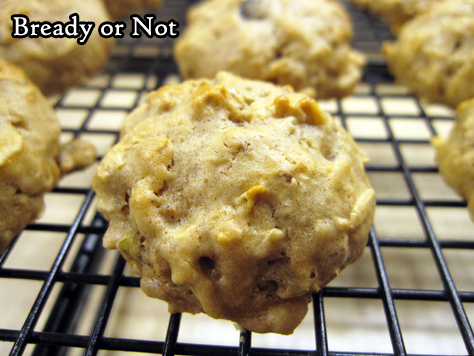 I tested out this recipe using Seven Sundays Vanilla Cherry Coconut Muesli, which was FANTASTIC in these cookies.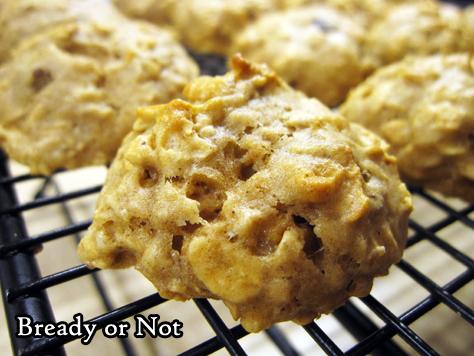 The customization options for this recipe are really endless. Get a new muesli and get baking! Muesli is often on sale at this time of year. Take advantage of that.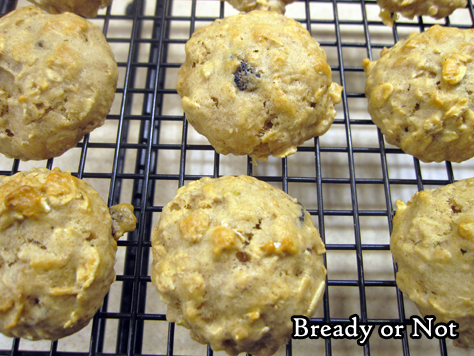 These cookies are slightly tacky because of the applesauce, so be sure to keep waxed paper or parchment between the cookies in their sealed container or they'll stick together.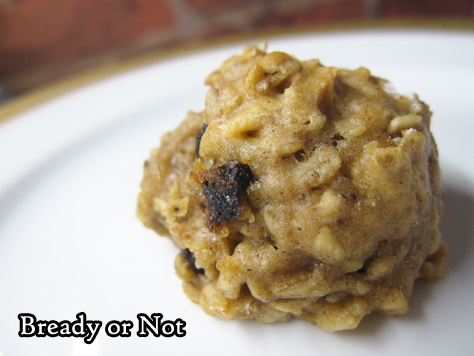 The cookies will keep well for up to a week, too. In fact, take them on the go. Enshroud some in plastic for a kid's (or your own) snack or lunch.
The recipe makes about 55 cookies if you use a teaspoon scoop, so you'll have plenty of cookies to enjoy!
Bready or Not Original: Soft Muesli Breakfast Cookies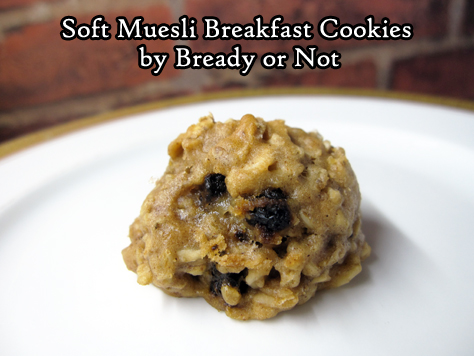 These soft-baked plump breakfast cookies are full of wholesome goodness. This recipe is easy to customize with different muesli mixes. Using a teaspoon scoop, recipe makes about 55 cookies.
1 1/2 cups all-purpose flour
1 teaspoon baking soda
1 teaspoon cinnamon
1/4 teaspoon salt
3/4 cup applesauce (individual serving cup size)
1/2 cup brown sugar
1/2 cup vanilla or plain Greek yogurt
2 Tablespoons vegetable or coconut oil
1 egg
1 teaspoon vanilla extract
2 1/2 cups (one 11 ounce package) muesli
Preheat oven to 350-degrees.
In a medium mixing bowl whisk together the flour, baking soda, cinnamon, and salt. Set aside.
In a big mixing bowl, beat together the applesauce, brown sugar, yogurt, vegetable oil, egg, and vanilla with a mixer until well combined. Add flour mixture, followed by the muesli.
Drop cookie dough by teaspoon scoops onto a parchment paper-lined cookie sheet. Bake for 10 to 12 minutes.
Allow cookies to cool on pan for five minutes, then transfer to a wire rack to cool completely. Store in a sealed container between parchment or waxed paper layers; the applesauce will make the cookies slightly tacky if they touch each other. They'll keep for up to a week at room temperature.
OM NOM NOM!