Corned beef in the slow cooker. This is by far the easiest, tastiest way I've found to make this dish!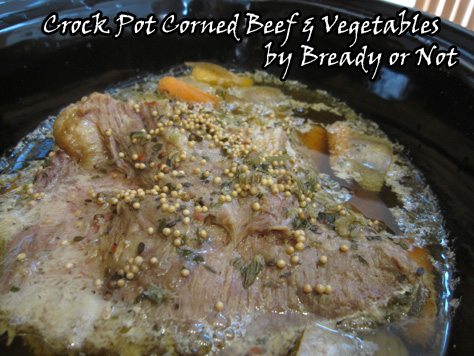 It's become an annual tradition for me to make a St. Patrick's Day corned beef brisket. I boiled the meat one year, and baked it in the oven the next. It's turned out delicious both ways (though the quality of the Kroger-branded brisket was lousy with fat) but I found that the crock pot is the best way to go. No watching the pot for boil-overs! Plus, it makes side dish veggies at the same time.
I dislike celery so I replaced the cut stalks with celery flakes, which provides flavor without the icky texture. You'll want to cut the potatoes into big chunks that are all of like size. It'll depend on the size of the potato if you need to cut them into halves or quarters. I had pretty big potatoes, so I did quarters. Do get red potatoes, though. They cook all day and get tender, not mushy.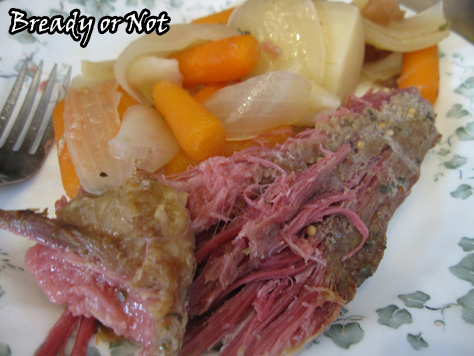 Make this along with the Mini Muffin Irish Soda Bread from last week, and your St. Paddy's Day meal is all set! … Oh, you want dessert? How about these Irish Coffee Blondies from a few years ago?
Don't forget to wear green on the 17th… unless you want to get pinched…
Modified from TheSkinnyFork.com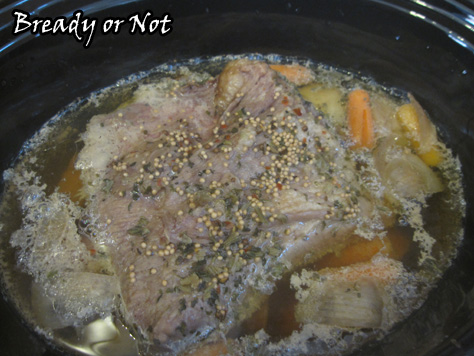 Bready or Not: Crock Pot Corned Beef & Vegetables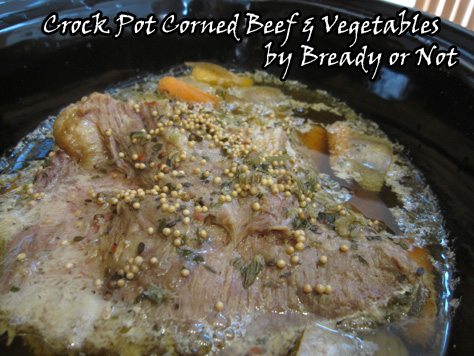 Make your St. Patrick's Day dinner convenient and delicious with a slow cooker version of corned beef, potatoes, and vegetables.
3 lb corned beef brisket + seasoning packet
1 Tb celery flakes (or several chopped celery stalks)
1 yellow onion, in wedges
1/2 lb red potatoes, cut into halves or quarters
8 ounces baby carrots
4-6 cups water
Place celery flakes, onion slices, potatoes and carrots into the crock pot. Trim fat from the brisket and place the meat on top of the veggies.
Add 4-6 cups of water to the crock pot until the brisket is almost covered. Sprinkle the brisket's seasoning packet over the top.
Put the lid on and cook on high for 4 1/2 hours, or 8 to 9 hours on low.
Remove the brisket and slice thinly or pull into chunks. Serve with the cooked veggies.
OM NOM NOM!
Preparation time:

15 minutes

Cook time:

9 hours

Total time:

9 hours 15 minutes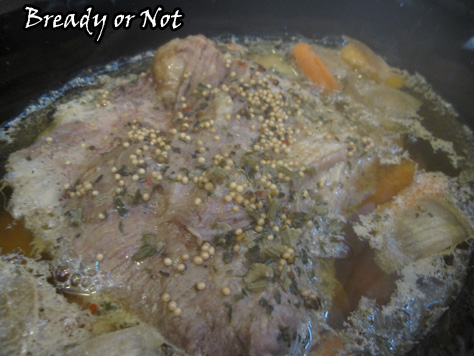 Read More
Holy cow. You'd think all cows are holy with how beef costs have gone up, and it's supposed to get worse through the summer.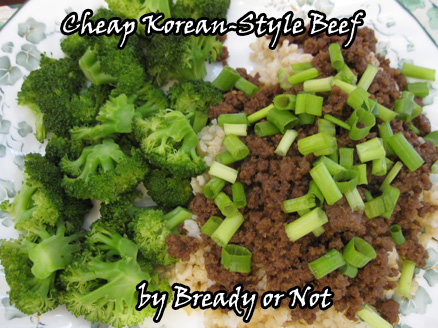 That's one reason why I like this dish. It uses lean ground beef (which has still gone up 50% in price the past few years…) but enables me to do something different than the standard taco filling. It's also cheaper than the flank steak you typically see used for home versions of Korean or Mongolian-style dishes.
This doesn't taste like teriyaki, but has a sweet, savory flavor that goes fabulously with the meat.
So if ground beef goes on sale, don't go for the tortillas. Pick up some extra rice and make this instead!
Recipe modified from Elizabeth Bryant.
Bready or Not: Korean-Style Ground Beef
1 pound lean ground beef
1/4 cup brown sugar, packed
1/4 cup soy sauce
1/2 Tablespoon sesame oil
3 cloves garlic, minced
1/4 teaspoon ginger powder or 1/2 teaspoon fresh ginger, minced
1/2 teaspoon crushed red pepper
salt and pepper
diced green onions
Heat a large skillet over medium heat. Add in sesame oil and garlic, stir, then add in the hamburger and brown it. Drain most of the fat.
Add brown sugar, soy sauce, ginger, salt and pepper, and red pepper. Simmer for a few minutes to blend the flavors.
Serve over rice or noodles, and top with green onions.
!OM NOM NOM!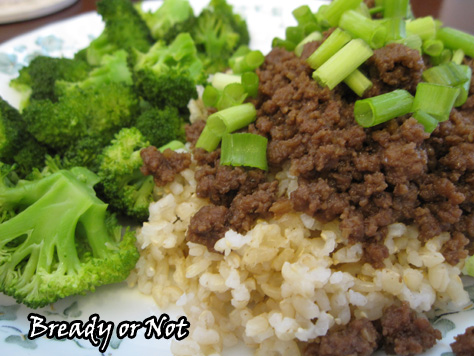 Read More