Welcome to MACADAMIA NUT MONTH! Why is this Macadamia Nut Month? Because next month on the 23rd, the final book in my Blood of Earth trilogy comes out! Macadamia nuts are a big product of Hawaii, and Hawaii is a major setting in Roar of Sky. Plus, macadamia nuts are awesome.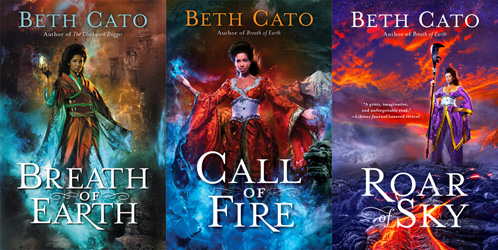 If you love these nuts, get ready to bliss out. This month includes recipes for:
White Chocolate Macadamia Nut Pie
White Chocolate Macadamia Nut Cookies
Lemony Macadamia Nut Bars
Mini Fruit Cake Loaves to make now for the holidays (macadamia nuts optional) (today)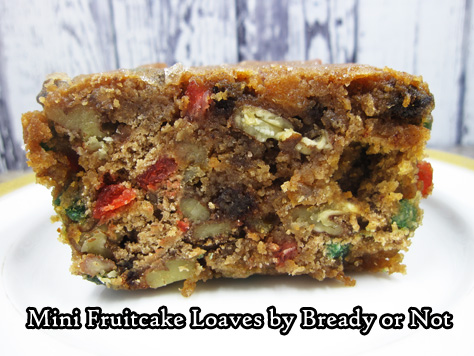 Fruitcake is one of the most maligned holiday foods out there, but people do love it. My dad sure does. I wanted to make him a fruitcake that proved how awesome they could be.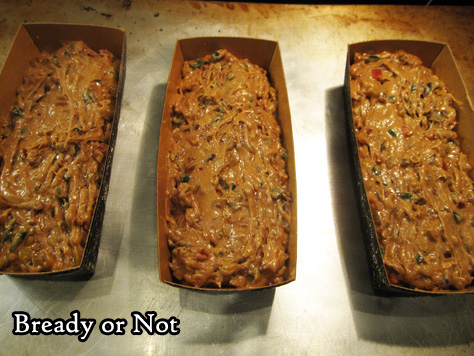 The recipe you see today is one I've been experimenting with for a few years now. One problem that I had with a lot of existing recipes is that they make a ton of fruitcakes. Therefore, I wanted to find the right recipe to cut in half for easier fridge storage and eventual transportation to California.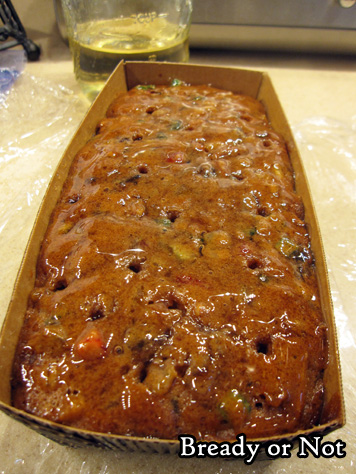 I used a highly-rated King Arthur Flour recipe and tweaked it a ton. I printed out guides of fruitcake-making advice and incorporated that information, too.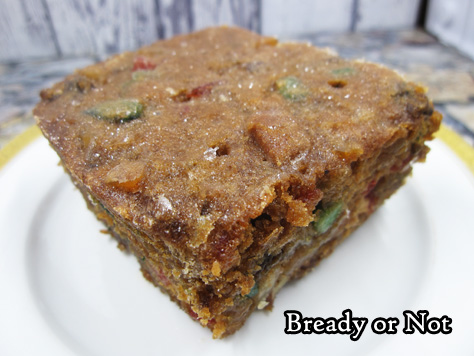 My dad doesn't like fruitcakes that are heavy on nuts. Therefore, I place more emphasis on the fruit. Customize the kinds of fruits and nuts to your preference. I often use a combination of pre-made "fruitcake mixes" from the grocery store along with dried golden raisins, chopped apricots and dates, etc. Whatever I have in my cupboard or can grab on sale.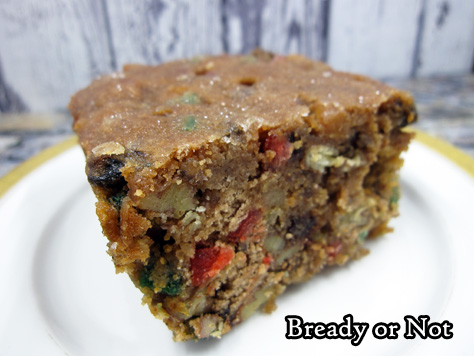 The same with the nuts. If you hate walnuts, don't use walnuts. Include just one nut or use a wide variety, just make sure they are chopped up. You don't want huge pieces.
The use of cocoa powder seems odd, but it's there to add color. That's a holdover from the original King Arthur Flour recipe. I was afraid that it would add a chocolate flavor, but it doesn't at all. There are so many other complex flavors going on, it doesn't stand out.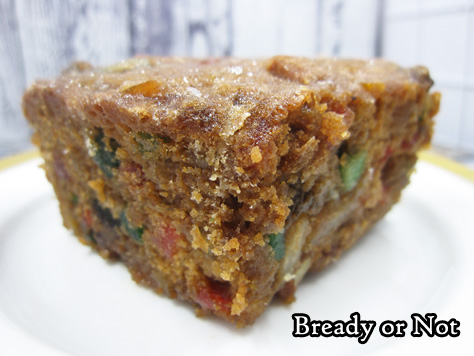 The liquid to macerate the fruit can be alcohol or standard fruit juice. My preference is to get some help from good old Captain Morgan. In the simple syrup, you can also omit the rum, if you so choose.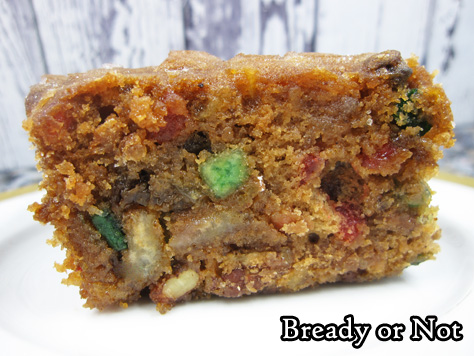 If you have any questions about this fruitcake recipe, feel free to comment on this page or reach out via social media. Just don't wait too long–if you want these loaves ready for the holidays, you'll need to bake them soon!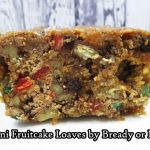 Print Recipe
Bready or Not Original: Mini Fruitcake Loaves
I advise using disposable mini loaf pans for this recipe. Measurements for these pans vary widely; this recipe was tested with pans that measured 7" x 2.5" width, 1.8" high, and the batter filled three pans. If you're making these loaves as a holiday gift, plan to bake at least 6 weeks before the gift-giving date. The loaves will need to be basted with a simple sugar glaze each week for those 6 weeks in order to "ripen" the fruitcakes. After the glazing is done, the loaves can be removed from their pans to be frozen indefinitely, or well-wrapped and stored in a cool, dark location for months.
Ingredients
Fruit:
1

lb

+ 4 ounces fruit

20 ounces total, dried and/or candied, including fruitcake mixes, raisins, chopped dates, cherries, apricots, crystallized ginger, etc

6

Tablespoons

rum

or brandy, apple juice, or cranberry juice
Batter:
1/2

cup

unsalted butter

1 stick

1

cup

brown sugar

packed

1/2

teaspoon

salt

1/2

teaspoon

cinnamon

1/8

teaspoon

allspice

1/8

teaspoon

nutmeg

1/2

teaspoon

baking powder

2

large eggs

room temperature

1 1/2

cups

all-purpose flour

1

Tablespoon

cocoa

optional, for color

2

Tablespoons

corn syrup

1/4

cup

apple juice

or water

1

cup

nuts

chopped, one kind or a variety: almonds, pecans, walnuts, macadamia nuts, etc
Simple Syrup Glaze:
1

cup

white sugar

or caster; or for deeper flavor, turbinado

1/2

cup

water

1/2

Tablespoon

rum

optional
Instructions
Prepare the fruit:
Combine the fruit with the liquid of choice in a non-reactive bowl; cover and let rest overnight, at minimum.
Prepare simple syrup:
Combine the sugar and water in a small saucepan. Heat until the sugar is dissolved. Stir in the liquor, if using. Cool completely. Keep stored in jar in fridge to brush the loaves over the coming weeks.
Make loaves:
Preheat oven at 300-degrees. Place the butter and sugar in a large bowl and beat together, followed by the salt, spices, and baking powder.

Beat in the eggs, scraping the bowl after each addition.

In a separate bowl, whisk together the flour and cocoa.

Add the flour mixture and the corn syrup to the butter mix. Scrape bowl well, then add the juice, the fruit with its liquid, and the nuts.

Apply nonstick spray to the mini loaf pans; pan measurements vary, but this recipe should use 3 to 4 pans. Spoon batter into the pans, filling them about 3/4 full.

Bake for about 1 hour to an 15 minutes. Cakes are done when a toothpick stuck in the middle comes out clean. If desired, poke the cakes throughout with a skewer to allow more liquid to seep in. Brush tops with simple syrup for the first time.

Allow loaves to completely cool, then wrap them tightly in plastic wrap. Store in the fridge or in a cool, dark location.
After baking:
Once a week for the next six weeks, unwrap loaves to brush with more simple syrup (making more in needed).

After 6 weeks of ripening, the cakes can be eaten, stored in fridge longer, or frozen.

OM NOM NOM!
Read More
Bourbon. Glazed. Pound. Cake. This thing is easy to make and tastes like a boozy version of a cruller.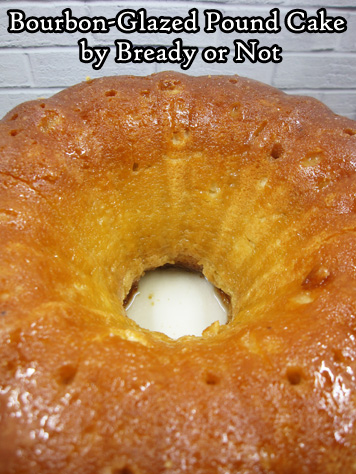 Yes, a cruller. Those yummy braided-style glazed donuts. Slathered in bourbon.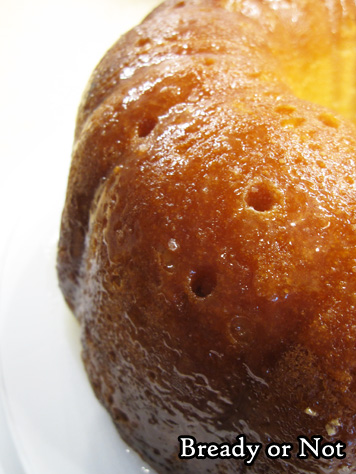 Do I have your attention now?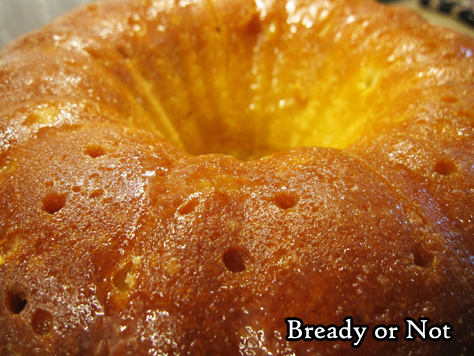 I based this recipe on one in Bake From Scratch Magazine (Holiday 2016) but I altered it a good bit, especially in regards to the glaze.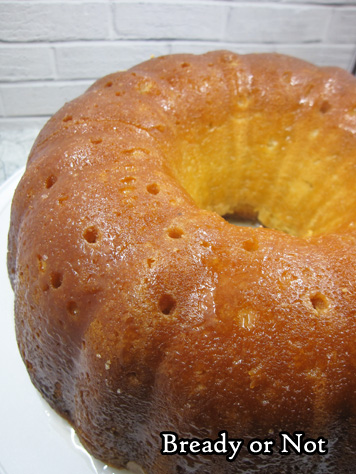 When I use a thin, sugary glaze on a bundt cake, I like to use a method I learned from the Great British Bake Off. I use the pan to help me make sure the glaze soaks into the entire cake.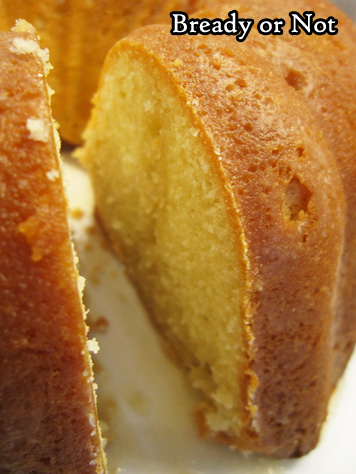 I've had too many cakes where the bottom middle of the cake ends up devoid of glaze. Not so with this technique!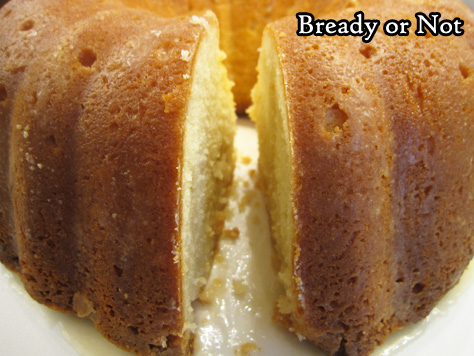 Yes, you can taste the bourbon in the end result. No, I have no substitutions to offer. I don't know what this recipe would be without that particular reinforcement.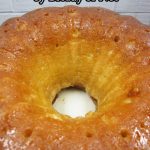 Print Recipe
Bready or Not: Bourbon-Glazed Pound Cake (Tube/Bundt Cake)
This glorious cake tastes like a boozy cruller! The inside is soft and tender like a pound cake, with the glaze creates a crunchy crust. This cake is great warm or cold, and slices can be frozen for later enjoyment, too.
Ingredients
Cake:
2

cups

unsalted butter

4 sticks, softened

2 3/4

cup

white sugar

6

large eggs

room temperature

3 3/4

cups

all-purpose flour

1/4

teaspoon

ground nutmeg

1/8

teaspoon

kosher salt

1/2

cup

milk

or half & half

1

lemon

zested

1

teaspoon

vanilla extract
Bourbon Glaze:
1

cup

white sugar

1/2

cup

bourbon

7

Tablespoons

unsalted butter
Instructions
The Cake:
Preheat oven at 325-degrees. Grease and flour a 10-inch-or-larger tube pan or bundt pan.

In a large bowl, beat butter until creamy, about 2 minutes. Add sugar, and beat until fluffy and white, about 7 minutes. Add eggs, one at a time, beating well after each addition.

In a separate bowl, sift together flour, nutmeg, and salt. Gradually add it to the butter mixture, alternating with the milk. Follow up with the zest and vanilla. Pour into the ready pan.

Bake until it passes the toothpick test, about 1 hour to 1 hour 15 minutes. Let cool in pan for 15 minutes, then upend onto wire rack. Set aside the pan--don't wash it! Let the cake completely cool for a few hours.
The Glaze:
Combine the sugar, bourbon, and butter in a small saucepan. Constantly whisk at a low heat until the butter melts and sugar dissolves. Take off heat. It will look like a lot of liquid, but the cake will soak it up.

Place the cake back in the pan. Poke holes all over the base with a chopstick or skewer. Spoon about half the glaze over holes and sides of cake. Let sit a minute. Upend cake onto a serving platter or plate. Poke more holes all over top. Spoon rest of glaze into holes and over sides. Use a basting brush to mop up drippings and make sure cake is fully glazed.

Store under a cake dome at room temperature or in fridge. Can also be cut into slices and individually frozen. Eat cold, at room temperature, or warmed in microwave.

OM NOM NOM!
Read More