Bready or Not goes full-on bready with this week's feature: Fougasse, a French style of bread fragrant with herbs and formed into two leaf-shaped loaves.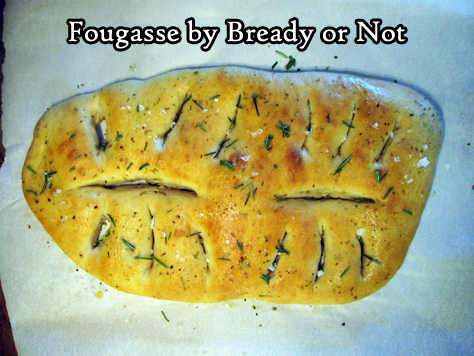 I first encountered this bread on the Great British Bake Off, where it was presented as a technical challenge with minimal instructions. (I highly recommend watching season 4 episode 6 prior to baking, if you can, as it provides great tips and visuals of the bread).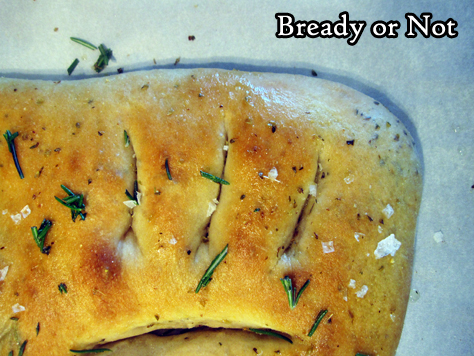 I found this bread dough surprisingly easy to work with. I opted to make it in my Kitchen Aid, which is in line with the original recipe, but it could certainly be mixed in a bread machine or by hand.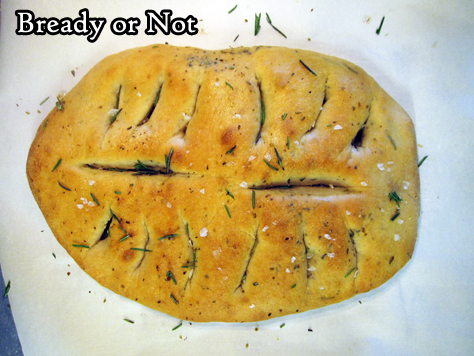 The end result reminded me of focaccia with the herby, salty flavor, but I found the leaf shape of the fougasse to be incredibly fun. It really makes for a great presentation.
To use Bake Off terminology, this bread is a technical challenge that also works as a showstopper.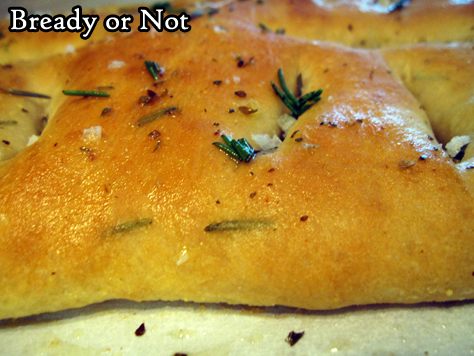 Modified from Paul Hollywood's recipe as published on the BBC's site.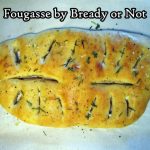 Print Recipe
Bready or Not: Fougasse
This herby bread is of French origin and designed to make two large loaves that resembled big, flat leaves. Recipe is modified from Paul Hollywood, as featured on the Great British Bake Off. Amounts are provided below in cups and in weight, with a recommendation to follow the weight for more accuracy.
Equipment
2 large baking sheets

parchment paper

pizza cutter

pastry brush
Ingredients
2

Tablespoons

olive oil

plus more for greasing and drizzling

500

grams

bread flour

plus more for dusting (1 lb, 2 ounces)

10

grams

fine sea salt

(1/4 teaspoon)

7

grams

instant yeast

(2 1/4 teaspoon)

350

ml

warm water

(12 ounces)

4

teaspoons

chopped rosemary

plus more to finish

2

teaspoons

dried Italian seasoning

fine cornmeal

for dusting, or substitute semolina flour

1/2

teaspoon

dried oregano

sea salt flakes

to finish
Instructions
Grease a large container with some olive oil. Line two large baking sheets with parchment paper.

In a mixer with a dough hook (or with a dough whisk and arm muscle), combine the bread flour and sea salt. Add yeast, followed by the measured olive oil and most of the warm water. Mix on low speed. As the dough comes together, slowly add the rest of the water. Continue to mix on medium speed for about 7 or 8 minutes. Add the herbs and make sure they are evenly distributed. Dough should be quite elastic and easy to work with.

Dump the dough into the oiled container. Cover with plastic wrap and let rise until at least doubled, about an hour. Dough should be bouncy and shiny.

Dust a work surface with extra flour and cornmeal (or semolina). Tip the dough onto the surface. It should be loose and flowing. Divide dough in half.

Place each piece of dough on the prepared parchment. Spread into a flat oval, then use a pizza cutter to slice twice down the middle (to make a stem) with six cuts on the side of each leaf (see photograph for example). Gently stretch out the dough to emphasize the holes.

Cover both loaves with plastic wrap and allow to set for 20 minutes as the oven preheats to 430-degrees.

Brush or spray additional olive oil atop each leaf, then sprinkle on the dried oregano.

Bake for about 7 minutes, then switch positions of bread on the oven racks. Continue baking another 8 minutes or so (15 to 20 minutes total) until each fougasse is golden and sounds hollow when tapped on the bottom. Remove from oven. Immediately brush more olive oil on top, followed by a sprinkling of sea salt.

Bread is delicious fresh or at room temperature. Loaves can be well-wrapped and frozen for later enjoyment.
Read More
Let's welcome 2020 in grand style: with French shortbread called almond sables!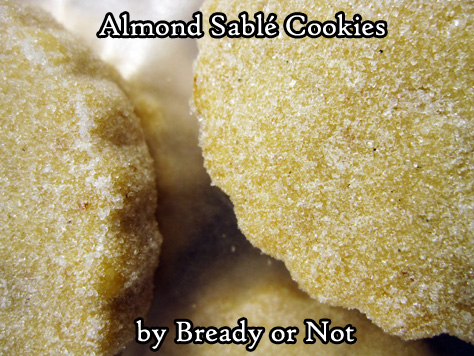 I've made a lot of shortbread in my day. All varieties. This is shortbread that's gone up in level. It tastes fancy. It's a French recipe, so that's only appropriate, right?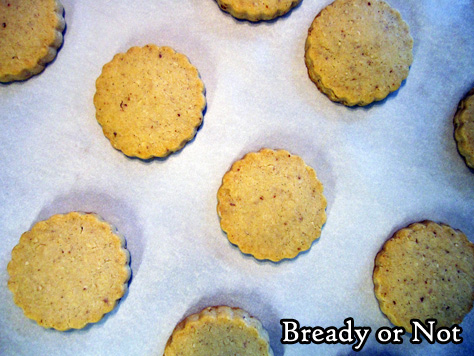 I highly recommend you use President-brand unsalted butter for this recipe. My recipe is actually modified from a version they used in advertisements. However, you can use other butters, just make sure you use unsalted and only 7 ounces. That means you'll chop off a tablespoon from the standard American butter stick.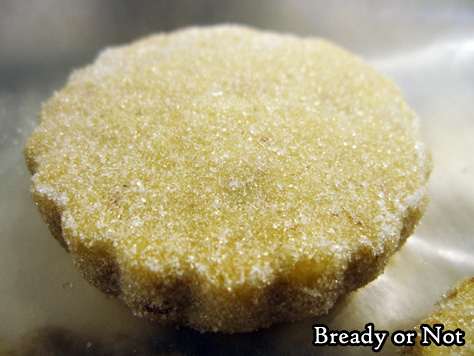 I made these cookies twice to get the recipe the way I wanted it. I used salted butter the first time, and the cookies tasted noticeably salty. Not just to me, but to other eaters as well.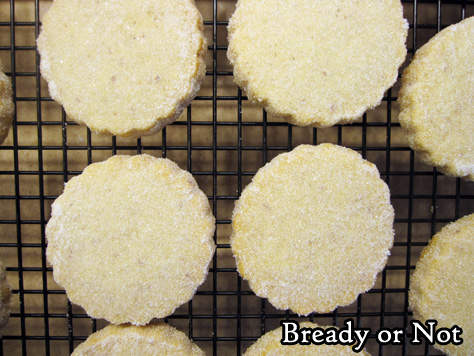 Because these cookies have such few ingredients, the few that are present really have a chance to shine. They are buttery, mildly nutty, with a soft, sandy texture.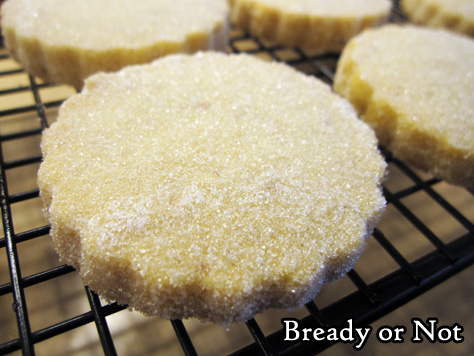 I liked using my fluted cookie cutters for these–that way the sugar coating has more nooks and crannies to cling to!
Recipe modified from a President butter advertisement.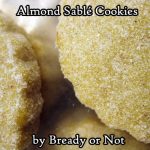 Print Recipe
Bready or Not: Almond Sable Cookies
These French-style shortbread cookies taste delicate and refined. Note that the dough needs at least a few hours to chill prior to baking. Modified from a recipe by President Butter.
Equipment
small cookie cutter

parchment paper
Ingredients
1/3

cup

sliced almonds

2

cups

all-purpose flour

7-

ounces

President unsalted butter

softened, or substitute other unsalted butter

1/3

cup

confectioners' sugar

3/4

cup

white sugar

divided

1

teaspoon

kosher salt

1

vanilla bean

or substitute 1 Tablespoon vanilla bean paste or 3 teaspoons vanilla extract

1

egg yolk
Instructions
Toast the almonds prior to beginning cookies. Preheat oven at 325-degrees. Spread almonds in an even layer on a rimmed baking sheet. Toast for about 10 minutes, until fragrant. Set aside to cool for a few minutes; turn off oven.

Measure out flour in a small bowl.

Use a food processor to grind almonds to a fine crumb; don't process for too long or it'll turn to almond butter. Mix almond crumbs with flour.

In a big bowl, beat butter until smooth. Add confectioners' sugar, 1/4 cup white sugar, and salt, until smooth again. Add vanilla bean (or equivalent) and egg yolk. Gradually work in flour mixture. Turn dough onto a lightly floured work surface, and knead 3 or 4 times to form a cohesive ball.

Place dough between two large sheets of parchment paper and compress dough to about 1/2-inch thickness. Enshroud in plastic wrap. Transfer to fridge to set, at least 2 hours but as long as 2 days.

Preheat oven to 325-degrees. Line large baking sheet with fresh parchment paper.

Roll out dough to closer to 1/4-inch thickness, then set aside top parchment sheet. Use a small round cookie cutter to cut dough, placing rounds spaced-out on sheet pan. Re-roll dough scraps to use up the rest, adding a touch of water, if necessary, to bring dough together again.

Bake until edges are just turning golden, about 15 to 20 minutes. Measure out remaining 1/2 cup white sugar in a bowl. Use a spatula to dip warm cookies into sugar to coat top and sides. Place on rack to cool cookies completely.

Cookies keep well in sealed container for up to 3 days.
Read More