These super-easy bars are packed with chocolate and minty goodness.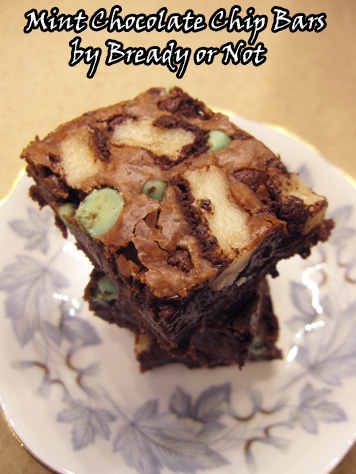 My husband's favorite flavors include snickerdoodle, lemon, and chocolate mint. I figured I was overdue to revisit that last flavor.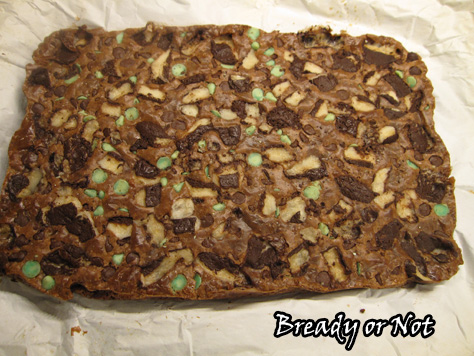 I had a bag of dark chocolate and mint chips I picked up on holiday clearance. Therefore, I used that whole bag to account for the 1 cup of dark chocolate and 1 cup of mint chips. You could easily do this with chocolate from separate bags or even use more York Patties to substitute for the mint chips.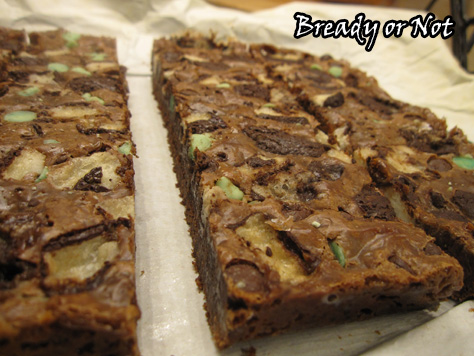 The basic fact is, you want a variety of dark chocolate and mint chocolate, and there are a lot of paths to achieve that. I do like the mix I used here–it's pretty!
Not only is it photogenic, but it's pretty darn tasty, too.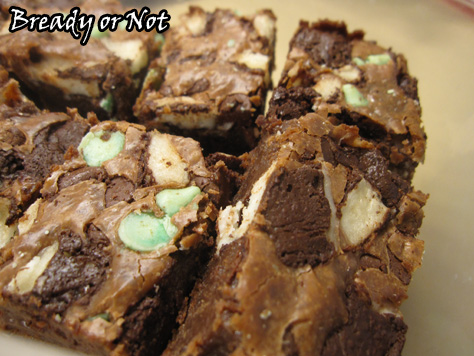 Modified from Chocolate Chips Bars at Roxana's Home Baking.
Bready or Not: Mint Chocolate Chip Bars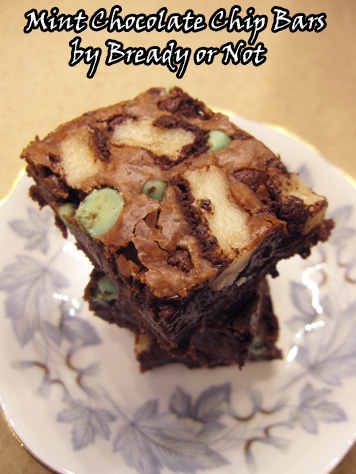 Decadent yet easy-to-make mint chocolate chip bars.
1 3/4 cup all purpose flour
1/4 cup cocoa powder, sifted
1 cup sugar
1/2 cup butter
1 egg
1 can (14 oz) sweetened condensed milk
1 cup dark chocolate chips
1 cup mint chocolate chips
1 cup York Peppermint Patties (or similar), chopped
Preheat the oven to 350-degrees. Line a 13x9 baking pan with parchment paper or aluminum foil and apply nonstick spray.
In a food processor or mixer, add the flour, cocoa, sugar, butter and egg. Mix for a few minutes, until it resembles coarse crumbs. Scoop out 3/4 cup and it aside.
Take the rest of the cookie dough out and press it into the prepared pan. Bake for 10 minutes.
Meanwhile, melt the 1 cup of dark chocolate (microwave or stovetop), then mix it with the can of condensed milk and the reserved cookie dough. This creates a thick, muddy batter.
Remove the partially-baked crust from the oven and gently spread the chocolate mix over it as evenly as possible. Sprinkle the mint chips and chopped York patties over the top.
Bake for another 25 minutes. Let it cool completely in the pan before using the parchment/foil to lift it out of dish for easier cutting.
OM NOM NOM!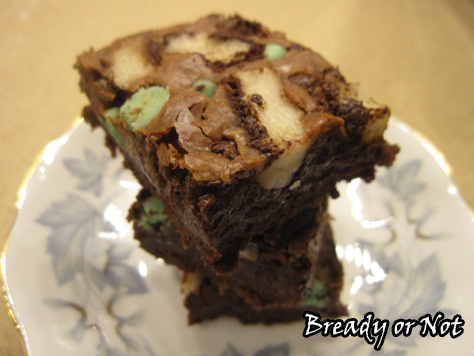 Read More
You want something chewy, minty, and luscious? Here's your new favorite cookie bar.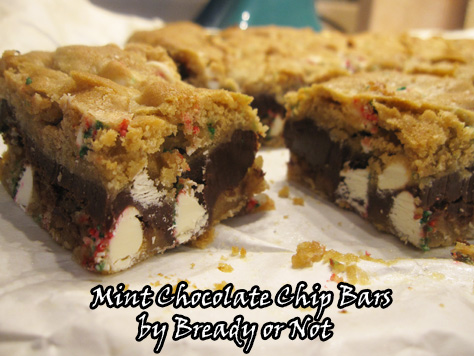 I used mint chocolate chips from King Arthur Flour here but you can substitute any kind of mint chocolate chips you get from the grocery store. I do love the seasonal colors of these particular chocolate chips!
These bars are kind of amazing. They are EASY. They look like they are more work-intensive than they are. The results really impressed me because they are so chewy, even the side pieces. The mint flavor is definitely there but it doesn't knock you upside the head; if you want it heavier, add an extra splash of extract. Another note: after a day, the mint flavor in the bars gets even stronger.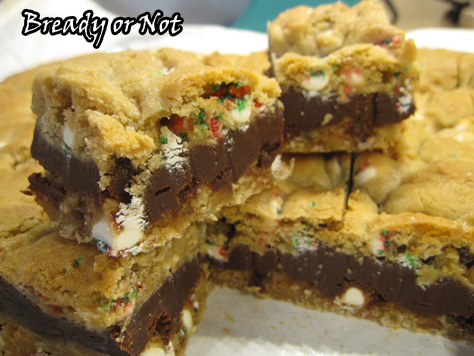 You'll definitely want to chill this before you slice into bars. I store them in the fridge after that because I live in Arizona, but these might be okay at room temp for you folks who actually experience winter.
My husband loves mint chocolate. These bars have his full endorsement.
Modified from Recipe Girl.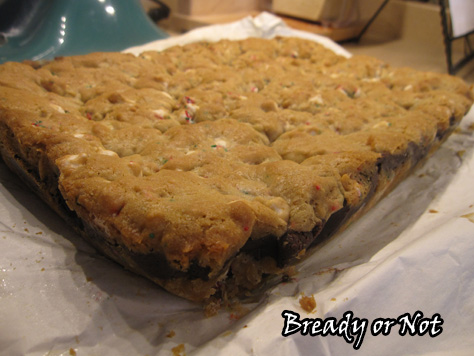 Bready or Not: Mint Chocolate Chip Bars
Chocolate Layer:
2 cups chocolate chips, semi-sweet or milk or mixed
One 14-ounce can sweetened condensed milk
1 teaspoon peppermint extract
Cookie Dough:
1 cup (2 sticks) unsalted butter, room temperature
1 cup light brown sugar
1/2 cup granulated white sugar
2 large eggs
1 tablespoon vanilla extract
2 cups all-purpose flour
1 cup quick-cooking or old-fashioned rolled oats
1 teaspoon baking powder
1 teaspoon baking soda
1 teaspoon kosher salt
2 cups mint chocolate chips
Prepare the mint chocolate filling first: Place semi-sweet and/or milk chocolate chips and condensed milk in a small saucepan. Heat on low, stirring often, until everything has melted and the mix has thickened. Remove it from the burner and pour in the peppermint extract and stir. Let the pot cool until it's about room temperature.
Preheat oven to 350 degrees. Prep a 9x13-inch pan with parchment paper (the combination aluminum foil/parchment paper works well here) and lightly butter or use nonstick spray. Have paper overhang the sides for easy lifting later.
Prepare the cookie dough: Place the butter and sugars in a large bowl. Mix until smooth and creamy. Add the eggs and vanilla.
In a separate bowl, whisk together the dry ingredients: flour, oats, baking powder, baking soda and salt. Mix with the butter mixture. Add mint chocolate chips last.
Place about half the cookie dough in the prepared pan. It will be sticky, but drop it in dollops and smooth it to the edge as best you can. With a solid layer on the bottom, now dollop the cooled chocolate from the saucepan. Use an offset spatula to smooth it to the edges. Plop the rest of the cookie dough on top and don't worry if some chocolate shows through. The dough will ooze out and even as it bakes.
Bake until lightly browned, about 20 to 25 minutes. Set aside to cool for a few hours, then place in fridge to completely set. Cut into bars. Store in sealed container in fridge or on counter.
!OM NOM NOM!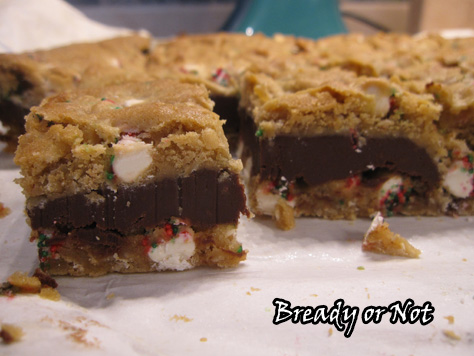 Read More