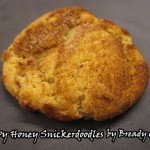 Print Recipe
Bready or Not: Chewy Honey Snickerdoodles
A Bready or Not Original: classic Snickerdoodle cookies with a touch of honey! These cookies are excellent to pack for conventions or ship cross-country, as they'll stay chewy and delicious for over a week and a half. Also note that the dough is great to freeze for weeks, and the wrapped-up dough can also idle in the fridge for several days before being baked. These cookies are convenient at every stage!
For dough:
3/4

cup

unsalted butter

1 1/2 sticks, softened

1/2

cup

light brown sugar

packed

1/2

cup

white sugar

2

Tb

honey

1

large egg

room temperature

2

teaspoons

vanilla extract

1

cup

bread flour

1

cup

all-purpose flour

1 1/2

teaspoons

cream of tartar

2

teaspoons

cornstarch

1

teaspoon

baking soda

1/2

teaspoon

salt
For rolling:
3

tablespoons

white sugar

3

teaspoons

ground cinnamon
In a large bowl, beat the butter until smooth. Add the sugar and honey and beat until creamy and fluffy, about 3 minutes. Scrape down the sides of the bowl and then mix in the egg and vanilla extract.

In a separate bowl, combine the dry ingredients: bread flour, all-purpose flour, cream of tartar, cornstarch, baking soda, and salt. Sift together.

Slowly stir together the wet and dry ingredients until just combined. Wrap the dough in plastic wrap and stash in the fridge for several hours or days.

When you're ready to bake, preheat the oven to 350-degrees. Use greased stoneware, parchment paper, or silpat mats. Prepare sugar and cinnamon mix, and roll dough balls to coat.

The cookie dough, even straight from the fridge, has a soft Play-Doh-like consistency, so it will spread when it bakes; keep this in mind when you space the cookie dough balls.

Teaspoon-sized cookies need to bake 9 to 12 minutes; Tablespoon-sized take 11 to 13 minutes. Let set on cookie sheets for 10 to 15 minutes before moving to a rack to cool completely.

Cookies will keep in a sealed container, between waxed paper or parchment layers, for over a week and a half. They are excellent for travel or shipping.

OM NOM NOM!