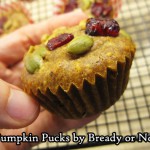 Print Recipe
Bready or Not: Pumpkin Pucks
This delicious recipe makes a kind of gluten free, paleo-friendly dense pumpkin custard in a muffin pan. Store these in the fridge for upward of a week; they can also be frozen, with the muffin liners removed, and kept between waxed paper.
Topping choice: 1/3 cup mini chocolate chips, OR chopped nuts or pepitas, or dried cranberries
Place muffin cup liners in pan, then spray the insides with nonstick spray. Preheat oven at 350-degrees.

If your almond butter is very stiff, measure it out, place in a microwave-safe bowl, then zap it for 15 seconds or so to soften it. Mix pumpkin puree and the almond butter together.

Add honey and maple syrup. Beat in eggs one at a time. Add the dry ingredients until everything is just combined.

Fill the muffin cups to 3/4 full; a tablespoon scoop makes this easy, as it's almost exactly 2 tablespoons to fill the cups. Top with mini chocolate chips or nuts or cranberries, if desired.

Bake at 350-degrees for about 20 minutes. Pumpkin pucks will not rise much. The tops of some may start to crack. Remove them from pan and allow to cool, then store in fridge.

OM NOM NOM!