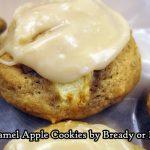 Print Recipe
Bready or Not: Caramel Apple Cookies
These stunning Caramel Apple Cookies involve a little extra work, but their deliciousness is well worth the effort. Use a tart or sweet-tart apple like Braeburn, Granny Smith, or Jonathan. Recipe makes about 36 cookies using a tablespoon scoop.
Frosting:
1/2

cup

brown sugar

packed

3

Tablespoons

unsalted butter

3

Tablespoons

apple cider

or juice

2 2/3

cups

confectioners' sugar
Preheat oven at 350-degrees. Line cookie sheet with parchment paper.

In a large bowl, beat butter until smooth, then add brown sugar, baking soda, cinnamon, cloves, and nutmeg, and salt. Continue to beat until fluffy, scraping bowl as needed.

Beat in the egg and apple cider or juice. Slowly mix in flour. Fold in the apple bits last; dough will be very soft.

Use a tablespoon scoop to space out dollops of dough on the parchment paper. Bake about 12 to 14 minutes, until golden brown; be careful not to under-bake, as the cookies need to be sturdy enough to be frosted. Completely cool cookies on wire rack.

When the cookies are cool, begin making frosting on stovetop. On medium heat in small saucepan, stir together brown sugar, butter, and apple cider or juice. Heat until the brown sugar is dissolved. Gradually stir in the confectioners' sugar.

Begin frosting cookies immediately; the back of a spoon works well. If the frosting in the pan begins to harden, stir in a few drops of hot water until it is smooth again.

Store cookies in a sealed container at room temperature with wax paper between the layers.

OM NOM NOM!