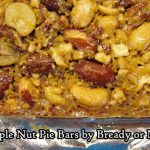 Print Recipe
Bready or Not: Maple Nut Pie Bars
These Maple Nut Pie Bars are similar to pecan pie, but in handy bar form. They consist of a shortbread crust topped with crunchy, sweet nuts. Perfect for the holidays and year-round.
Preheat oven at 350-degrees. Line a 13x9 pan with foil and grease with nonstick spray or butter. Set aside.

In a medium bowl, stir together the flour, powdered sugar, and salt. Use a pastry blender or a knife and fork to cut in the butter until it resembles small crumbs. Evenly press into the bottom of the pan. Bake for about 20 minutes, until light brown.

As that bakes, make the filling. In a medium bowl, lightly stir the eggs. Add the mixed nuts, brown sugar, maple syrup, melted butter, and maple flavoring. Spread over the hot crust.

Bake for another 18 to 20 minutes, until top is golden and set. Cool in pan for several hours. Lift contents onto a cutting board using the foil and slice into bars.

Store with waxed paper between layers in a sealed container in fridge. Bars can also be frozen for later enjoyment.

OM NOM NOM!