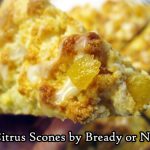 Print Recipe
Bready or Not Original: Citrus Scones
Use candied orange peel--the stuff used in fruitcakes--to make a deliciously fresh breakfast treat! This recipe makes eight scones, and can be cut by hand or formed in a scone pan. The finished scones can be frozen after glazing for later enjoyment.
Scones:
1 3/4

cups

all-purpose flour

1/4

cup

white sugar

4

teaspoons

baking powder

1/8

teaspoon

salt

5

Tablespoons

unsalted butter

1/2

cup

plus 1 Tablespoon milk

or half & half

1/4

cup

sour cream

1/3

cup

candied orange peel

1

egg

lightly beaten
Preheat oven at 400-degrees.

In a large bowl, whisk together flour, sugar, baking powder, and salt. Cut in the butter until it resembles coarse crumbs.

In a different bowl, stir together 1/2 cup milk and sour cream. Stir into dry ingredients until it just holds together, adding more milk if needed. Fold in the candied citrus peel.

If using a scone pan, pack the dough into the triangular holes. If shaping by hand, transfer the cohesive dough to a large piece of parchment paper on a large cookie sheet. Shape into a large, even circle. Slice into eight wedges and separate them slightly.

Whisk egg and remaining tablespoon of milk and brush them atop each scone.

Bake until scones are golden brown, 15 to 17 minutes. Leave on pan to cool for 20 minutes.

To glaze, mix together confectioners' sugar and orange juice to create a thick, dribbly consistency. Spoon atop scones. Immediately sprinkle on more candied orange peel and gently press into tops of scones.

Scones are best eaten within the day, but they can be frozen even while glazed. Freeze on waxed paper then transfer to a freezer bag or plastic container. They thaw quickly at room temperature.

OM NOM NOM!