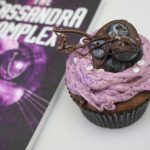 Print Recipe
THE CASSANDRA COMPLEX Chocolate Blueberry Cupcakes by Wendy Nikel
A chocolate cupcake with blueberry buttercream frosting, inspired by THE CASSANDRA COMPLEX by Wendy Nikel
Cupcakes:
1 2/3

cup

all-purpose flour

1/3

cup

cocoa powder

1

teaspoon

baking powder

1

cup

sugar

1

cup

butter

4

eggs

3

Tablespoons

milk

chocolate chips
Frosting:
1

cup

butter

4

cups

confectioners' sugar

6

Tablespoons

blueberry pie filling
Topping:
Blueberries

Melted chocolate chips
Preheat oven to 350 degrees F.

Sift together flour, cocoa, and baking powder.

In separate bowl, blend sugar and butter.

Add eggs to sugar mixture one at a time.

Gradually add the dry mixture and milk into the sugar mixture until well blended.

Fill cupcake liners half full, add a few chocolate chips on the top, and bake for 15-17 minutes. Let cool.

Melt chocolate chips and make nickel-sized dots on waxed paper. Create a pyramid of blueberries on each dot, with 4 berries on the bottom and 1 on the top. Drizzle melted chocolate over them, sprinkle with sea salt, and freeze.

Beat butter until creamy. Alternate adding 1c powdered sugar and 2T pie filling, mixing well after each addition, until all ingredients are mixed in.

After cupcakes are cool, frost and top with frozen blueberries and sprinkles. Enjoy with a good book!