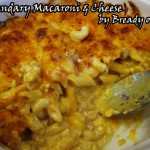 Print Recipe
Bready or Not: Legendary Macaroni and Cheese
This modified version of John Legend's recipe, as featured on Martha Stewart's show, can be prepared in the morning and cooked later in the day! It's everything macaroni and cheese should be: cheesy with a crunchy baked crust.
2

Tablespoons

unsalted butter

plus more for baking dish

1 1/2

cups

macaroni

1

can

evaporated milk

1

large egg

3/4

teaspoon

seasoning salt

1/2

teaspoon

garlic powder

1/2

teaspoon

salt

1/4

teaspoon

pepper

12

ounces

sharp cheddar cheeses

or a mix of cheddars, shredded

sprinkle

paprika

bread crumbs
If you plan to bake this right away, preheat oven to 375-degrees. Butter or spray a 9x9 baking dish.

Bring a large pot of water to a boil and add salt and macaroni. Cook until al dente. Drain the water and return the macaroni to the pot. Add butter and stir until it has melted.

In a medium bowl, whisk together evaporated milk and egg. Add seasoned salt, garlic powder, salt, and pepper.

Place about 1/3 of the macaroni in an even layer in the bottom of prepared baking dish. This should be just enough to cover the bottom. Cover with 1/3 of the cheese. Repeat twice more with remaining macaroni and cheese.

Pour the milk and seasonings mixture evenly over the contents of the baking dish. At this point, you can stash the dish in the fridge overnight or during the day until it's meal time.

When you're ready to bake, make sure the oven is preheated. Sprinkle the top of the macaroni with paprika and bread crumbs.

Bake until top layer is lightly browned, 20 to 30 minutes. Let stand 10 minutes before serving.

OM NOM NOM!