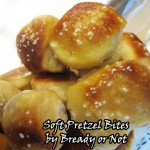 Print Recipe
Bready or Not: Soft Pretzel Bites
These Soft Pretzel Bites are tender and delicious. They taste best if eaten within a day of baking, but they also keep well frozen for a few weeks.
Dough:
1 1/2

cups

warm water

90 to 100-degrees

2

Tb

brown sugar

packed

1

Tb

instant yeast

6

Tb

unsalted butter

melted

2 1/2

teaspoons

salt

4 1/2 - 5

cups

all-purpose flour
Water bath:
12

cups

water

3/4

cup

baking soda

1

egg

beaten until frothy

pretzel salt

or kosher salt
If making with a stand mixer
Pour 1 1/2 cups warm water into your mixer; use the standard paddle attachment. Add 6 tablespoons melted butter, 2 tablespoons brown sugar and 1 tablespoon instant yeast. Mix on low for 30 seconds or so. (If using active yeast, let it sit for about five minutes to get frothy.)

Add 2 1/2 teaspoons salt and 2 cups of the flour; put dough hook on mixer. Turn mixer to low and add the rest of the flour, 1 cup at a time as the mixer runs. The flour is adequate when the dough pulls itself away from the sides of the bowl.

Turn mixer to medium speed and let it knead for 5 minutes.

Remove bowl from stand and cover with plastic wrap. Let the dough rise for 1 hour, or until doubled in size.
If making with a bread machine
Place ingredients in machine in specified order. In many, that means liquids first. Add in brown sugar, melted butter, salt, 4 1/2 cups flour, and yeast.

Set machine on a basic dough cycle. Monitor as it starts mixing and add more dough as needed to produce a soft, non-tacky dough; this will likely be 1/4 to 1/2 cup more. Let machine complete dough cycle and rise.
Now, regardless of how you start the dough
Rub counter space with butter or apply cooking spray, and likewise prepare two rimmed cookie sheets. Using a sharp knife or pizza cutter, slice the dough into eight equal portions. Let dough rest for 5 to 10 minutes.

While the dough is resting, pour 12 cups of water into a large pot; bring to a boil. Pour in 3/4 cup baking soda; it will get very frothy. Turn down the heat if necessary, keeping the water to a low boil.

Preheat oven at 425-degrees.

Return to the dough and roll each piece into a long rope. Cut each rope into little chunks about 2 inches wide.

Carefully drop the chunks into the boiling water. Let them boil for 1 minute. Do a dozen or so at a time.

Use a strainer or slotted spoon to remove dough pieces from the boiling water. Place pieces on the prepped cookie sheets. Continue until all the bites have had their bath.

Brush the beaten egg over the top of each dough piece and then sprinkle a bit of salt over the tops.

Bake the bites for 10-14 minutes or until golden brown. They cook fast, so keep an eye on them.

Let pans cool at least 10 minutes before you begin to indulge. Pretzels bites taste best eaten within a day, but can also be kept frozen for a few weeks and they thaw quickly. Eat at room temperature or slightly warmed.