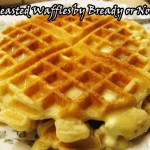 Print Recipe
Bready or Not: Yeasted Waffles
This waffle batter needs at least 4 hours to chill and can stay in the fridge for up to 3 days. This makes for a super-fast breakfast (or breakfast-for-supper) for days in a row! The yeast lends these waffles a taste similar to sourdough. Recipe makes about 10 waffles using scant half cups of batter.
In a small saucepan, heat milk and butter over medium until the butter is melted. Set aside to let cool until it's just warm, about 15 minutes.

In a large bowl, whisk together the flour, sugar, yeast, and salt. Add in the milk mixture followed by the eggs and vanilla extract. Stir together until just combined.

Refrigerate the batter for at least 4 hours, or up to 3 days.

Preheat waffle iron. Gently stir the batter to reconstitute. Use about scant 1/2 cup of batter for each waffle; the waffles will expand as they cook, and the iron might overflow on the first attempts you get a feel for the right amount to pour in.

Return any unused batter to the fridge for later enjoyment. Cooked waffles can also be frozen.

OM NOM NOM!