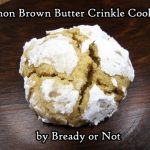 Print Recipe
Bready or Not: Lemon Brown Butter Crinkle Cookies
These lemon cookies are incredibly nuanced, with spices, brown butter, and a powdered sugar coating. Note that the dough needs to be chilled overnight, at minimum, as the dough is otherwise difficult to work with.
Brown butter in a saucepan, watching carefully to make sure it doesn't burn. Set aside to cool.

Mix together the flour, baking powder, cinnamon, and salt. Set aside.

In a large bowl, place the two sugars. Stir in the browned butter, followed by the eggs, zest and juice, and vanilla. Slowly add the flour mix. Dough will be loose and oozy. Wrap it up well in plastic wrap and set in fridge to chill for a day or two.

Preheat oven at 350-degrees. Place parchment paper on cookie sheet.

Measure out confectioners' sugar into a small bowl. Scoop a tablespoon of dough, roll it between palms to shape, then roll it in the powdered sugar. Set on parchment paper. Repeat process with other cookies, spacing them out, though expect minimal spreading.

Bake 15 to 18 minutes, until cookies spread a smidgen and crackle. Let cool on cookie sheet for 10 minutes, then transfer to a rack to completely cool.

Store between strips of parchment or wax paper in a sealed container. Will keep up to two days, but note the confectioners' sugar will absorb more over time.

OM NOM NOM!