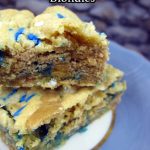 Print Recipe
Bready or Not: Oreo Thins Cake Batter Blondies [cake mix]
This super-simple recipe uses cake mix to bake up a delicious dish of blondies. Use an entire package of Oreo Thins, whatever flavor you fancy (Salted Caramel is great if available)! Regular Oreos are also fantastic for this recipe, but use only about 2 cups of chopped Oreos or they will overwhelm the batter. Adding chocolate chips is an option, too, depending on the Oreos being used; with some kinds it may make the bars too sweet.
Preheat oven at 350-degrees. Line a 13x9 dish with foil and apply nonstick spray or butter.

In a large bowl, mix together the cake mix, oil, egg, and milk. The batter should be thick. Fold in the Oreo Thins and sprinkles [and chocolate chips, if using].

Pour into pan and even out. Bake for 25 to 30 minutes, until middle passes toothpick test. Cool completely. Use foil to lift contents onto cutting board to slice into squares. Store in a sealed container.

OM NOM NOM!