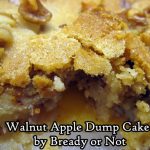 Print Recipe
Bready or Not Original: Walnut Apple Dump Cake
This easy-to-make cake is meant to be scooped out, not neatly cut. Delicious on its own or with vanilla ice cream!
Preheat oven at 350-degrees. Use nonstick spray or grease with butter the inside of a 13x9 pan (note: don't line with foil).

Peel and slice apples and place in pan. Sprinkle 1/4 cup brown sugar and cinnamon over apples.

In a large bowl, cream together butter and remaining brown sugar. Add eggs and vanilla extract. Follow up with flour and 1/2 cup of walnuts.

Drop dollops of dough all over apples, covering as much as possible. Sprinkle remaining walnuts over top.

Bake for about 40 minutes. Top should be golden and apples tender when poked with a fork.

Serve warm, at room temperature, or cold. Store covered in foil, in fridge or on counter top, for up to three days. Fantastic with ice cream!