Shortbread makes me think of autumn, so it's only right to combine shortbread and pumpkin.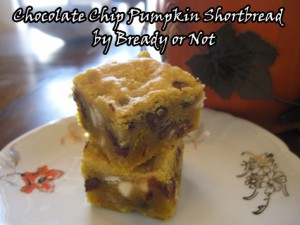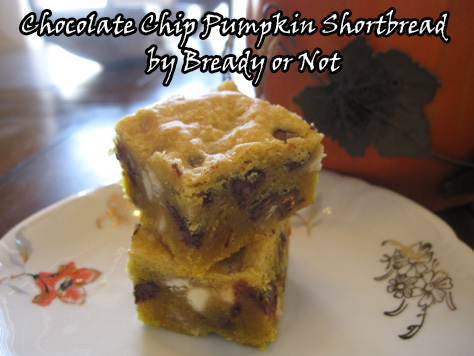 It's been a while, but I have talked about my shortbread/autumn association before. It puts me in mind of kilts and bagpipes and happy family times.
Pumpkin lends an orange tint and a very mellow and pleasant flavor. It's such a small amount that it doesn't make the pieces feel tacky, either.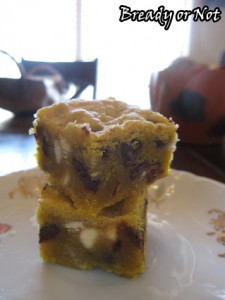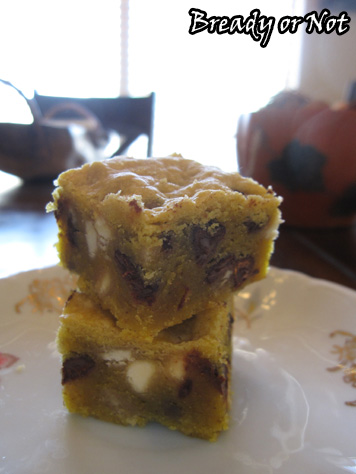 The original recipe called for dark chocolate. That's just not my thing. I prefer white chocolate with pumpkin. Here, I mixed in white and semi-sweet chips. YUM.
Don't be fooled by the fact that this uses an 8×8 pan–the shortbread is thick, so it makes a good bit. I cut it small, like I would with fudge.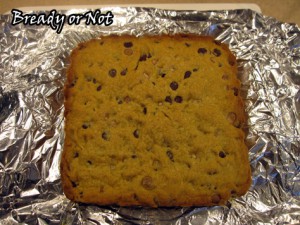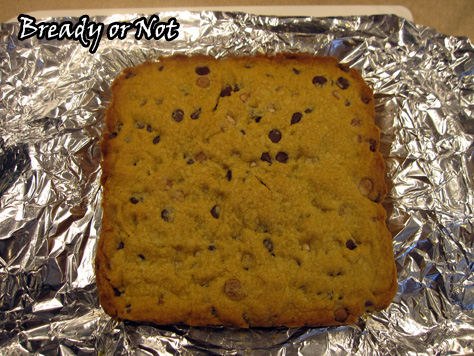 Like most any shortbread, these keep very very well. I imagine it would mail well, too, if you don't live in a place where it's still 100-degrees in November.
Modified from Dark Chocolate Pumpkin Shortbread from The View from the Great Island.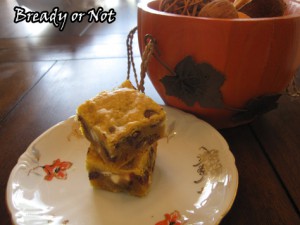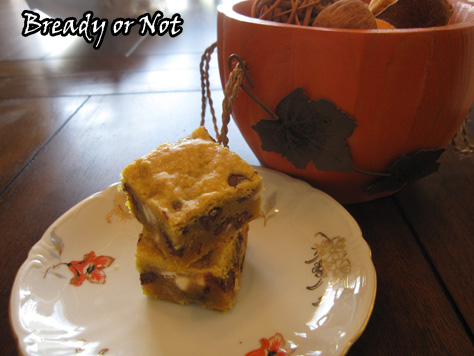 Bready or Not: Chocolate Chip Pumpkin Shortbread
2 sticks, (1 cup) unsalted butter, at room temperature
1/2 cup sugar
1 tsp vanilla extract
3 heaping Tbsp pumpkin puree
1/2 tsp cinnamon
1/2 tsp ground ginger
1/4 tsp each: cardamom, cloves, nutmeg, allspice
2 1/4 cups all purpose flour
1 cup chocolate chips (white, dark, semi, whatever you want!)
Preheat oven at 350-degrees. Prepare an 8x8 dish by lining it with aluminum foil or parchment paper and applying nonstick spray.
In a large bowl, cream butter and sugar together. Beat in the vanilla, pumpkin, and spices.
Fold in the flour, and then the chocolate chips.
Spread the batter in the pan, smoothing it out evenly.
Bake for about 40-45 minutes, until the edges just start to turn gold. Set out to cool to room temperature, then use the foil or parchment to lift the shortbread out for easy cutting.
!Store in a sealed container at room temperature.
!OM NOM NOM!