Cheese is divine to eat straight-up, but it can also be baked into delicious things such as these Homemade Cheese Crackers.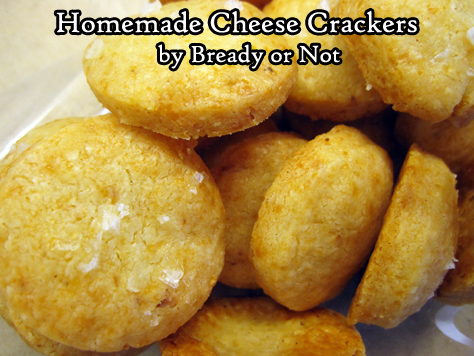 These crackers can be as fancy as you want. Use an import cheese like Gruyere or Comte, or stick with a basic American cheddar.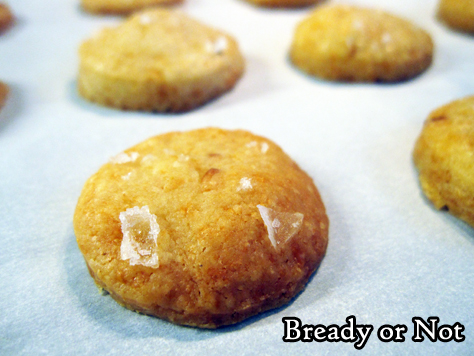 Whatever cheese you choose, be sure you have a food processor to, well, process the dough. The cheese needs to be at one with the flour and spices.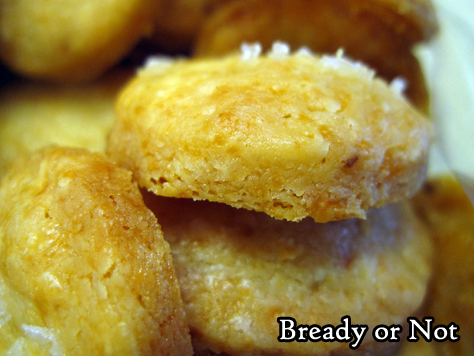 The dough can be frozen, but do be aware that the finished crackers have a definite shelf life.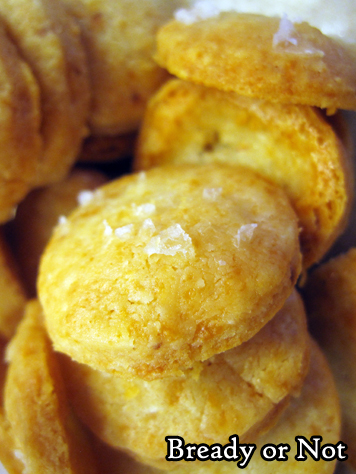 After about 3 days, the crackers become softer and crumblier. They still taste okay, but the structural integrity won't be very good if you want to carry them in a baggy.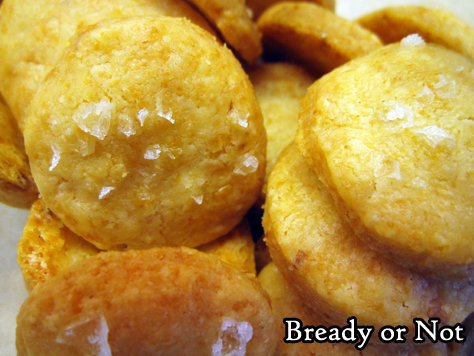 But then, these crackers are so good, you might have them inhaled so quickly that this is not a problem at all.
Modified from Around My French Table by Dorie Greenspan.
Bready or Not: Homemade Cheese Crackers
These homemade crackers use few ingredients to make delicious crackers. Pair with white wine or Champagne, or serve to kids or company! These crackers are as fancy as you want them to be, based on the cheese used. Makes about 55 1-inch crackers.
Equipment
food processor

baking sheet

parchment paper

1-inch cookie cutter
Ingredients
1/2

cup

unsalted butter

1 stick, cut into small pieces

4

ounces

Comte

grated, or Gruyere or Emmenthal or good old cheddar

1/2

teaspoon

salt

1/8

teaspoon

white pepper

pinch

cayenne pepper

optional

1

cup

plus 2 Tablespoons all-purpose flour

Maldon sea salt

or other flaky gourmet salt, optional
Instructions
Place the butter, cheese, salt, white pepper, and cayenne (if using) in the food processor. Pulse until the butter is broken into uneven pieces and the mixture begins to form small curds. Add the flour and mix until it looks like larger curds. If the dough is stubborn, pulse a bit more to distribute ingredients.

Dump dough onto a flat surface and gently knead with hands to make cohesive. Divvy dough in half, forming each piece into a flat disk, and wrap in plastic. Tuck into fridge to chill for at least an hour or a couple days; it can also be frozen at this stage.

When time to bake, preheat oven at 350-degrees. Line a baking sheet with parchment or nonstick mats.

Pull out a dough disk. Use two sheets of parchment to roll dough to about 1/4 inch thickness; if the dough is too hard to roll, let it rest at room temperature for a few minutes before trying again. Use a small cookie cutter (about 1-inch) to cut dough into crackers. Place them spaced out on parchment on pan. Gather the scraps to form more crackers, using a touch of water, if needed, to make it cohesive again.

If desired, sprinkle some Maldon sea salt atop crackers; only a few flakes are needed to add extra flavor.

Bake for about 10 minutes. Rotate pan. Bake for another 4 to 7 minutes, until crackers are lightly golden and firm to the touch. Let cool on pan or on a rack.

Crackers are great warm or at room temperature. They are best eaten within 3 days. After that, they soften and become more crumbly, but they are still tasty.
Read More
These Scottish Oatcakes are like a thick, wholesome, chewy cracker, and they are the perfect platform for cheese and charcuterie.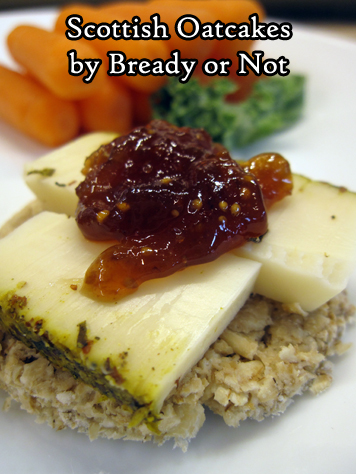 When I was on my UK trip last year, I made a pilgrimage to the Victoria Street location of I.J. Mellis Cheesemongers. Oh, bliss! I bought stuff for a personal picnic: cheeses I could never find in America, plus port chutney and Scottish oatcakes.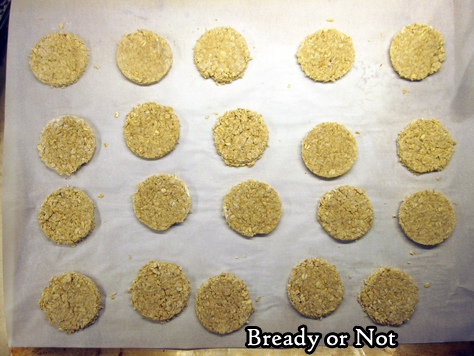 I loved everything. The oatcakes, basic as they were, really impressed me. They were oaty and fresh with a tiny hint of salt, and were ideal platforms for the cheese and chutney.
Upon getting home, I found no acceptable imported options for oatcakes, so I resolved to make them myself. I didn't want to use processed flour or sugar. In the end, I ended up finagling my own recipe.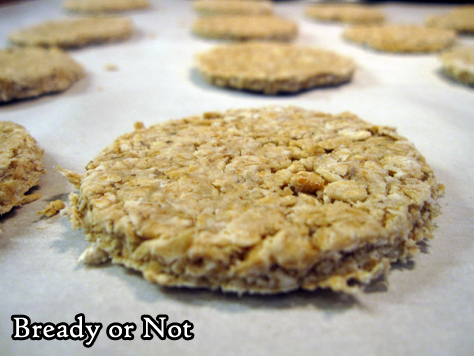 These oatcakes are basic and wholesome, and delicious in their simplicity. Get the consistency right, and these oatcakes are durable enough to handle smears of a soft-ripened cheese or cream cheese, and won't crumble when you bite in.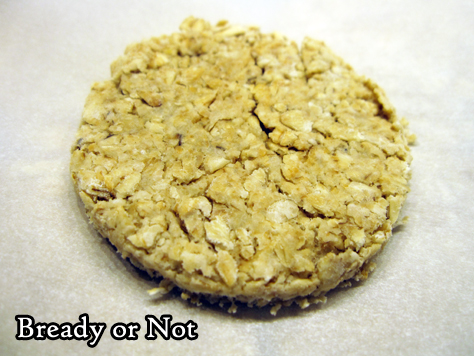 Store these oatcakes for days at room temperature, or freeze them for ages. By ages, I mean as long as six months. That's right, I forget I had some tucked in my freezer, and lo and behold they were fine half a year later.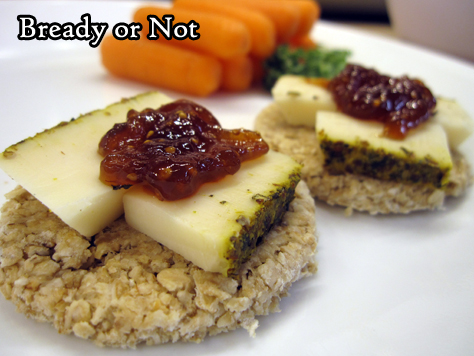 Pair oatcakes with cheese, sausage, and mayhap a nip of scotch.
Bready or Not Original: Scottish Oatcakes
These easy-to-make oatcakes act as wholesome platforms for cheese and charcuterie. If you need gluten-free food, use GF old-fashioned oats. Makes about 20 oatcakes using a 2.5-inch cutter.
Equipment
food processor

large cookie sheet

cookie cutter
Ingredients
2 1/2

cups

old fashioned oats

2

Tablespoons

unsalted butter

1

teaspoon

sea salt

1/2

cup

hot water
Instructions
Preheat oven at 375-degrees. Line a large baking sheet with parchment paper.

Place oats in a food processor and chop on HIGH for about 15 seconds, long enough to make them slightly less coarse.

Melt butter in a large bowl. Pour oats into the bowl. Stir to coat. Sprinkle salt over the top, then pour in water. Stir again to form a stiff dough that is just cohesive. If the mix won't come together, add more water in small increments.

Sprinkle flour (gluten-free flour, if necessary) on an even stretch of counter. Use palms of hands or a rolling pins to press oats into a flat, cohesive layer. Note that the oatcakes will not expand or grow when baking. Use a round cookie cutter to slice into discs.

Bake for 10 minutes. Use a spatula to gently flip them over. Bake for another 7 to 10 minutes. Let cool, then pack into sealed container.

Store at room temperature. Oatcakes can also be frozen, with wax paper or parchment between the layers, for as long as six months, and thaw quickly.
Read More