These Scottish Oatcakes are like a thick, wholesome, chewy cracker, and they are the perfect platform for cheese and charcuterie.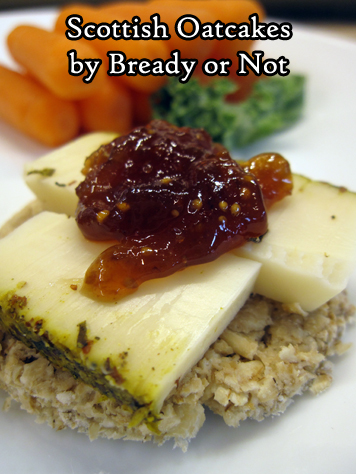 When I was on my UK trip last year, I made a pilgrimage to the Victoria Street location of I.J. Mellis Cheesemongers. Oh, bliss! I bought stuff for a personal picnic: cheeses I could never find in America, plus port chutney and Scottish oatcakes.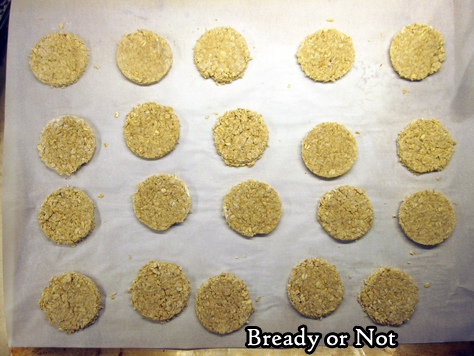 I loved everything. The oatcakes, basic as they were, really impressed me. They were oaty and fresh with a tiny hint of salt, and were ideal platforms for the cheese and chutney.
Upon getting home, I found no acceptable imported options for oatcakes, so I resolved to make them myself. I didn't want to use processed flour or sugar. In the end, I ended up finagling my own recipe.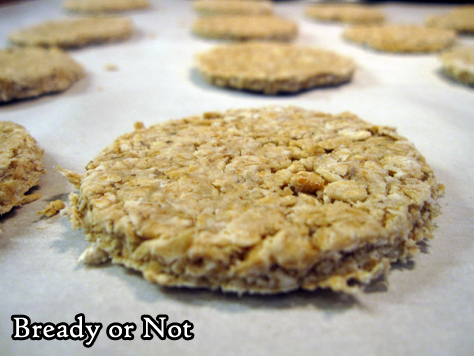 These oatcakes are basic and wholesome, and delicious in their simplicity. Get the consistency right, and these oatcakes are durable enough to handle smears of a soft-ripened cheese or cream cheese, and won't crumble when you bite in.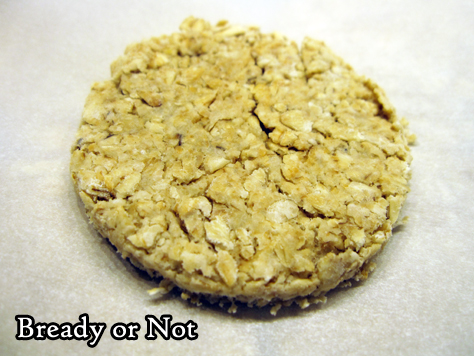 Store these oatcakes for days at room temperature, or freeze them for ages. By ages, I mean as long as six months. That's right, I forget I had some tucked in my freezer, and lo and behold they were fine half a year later.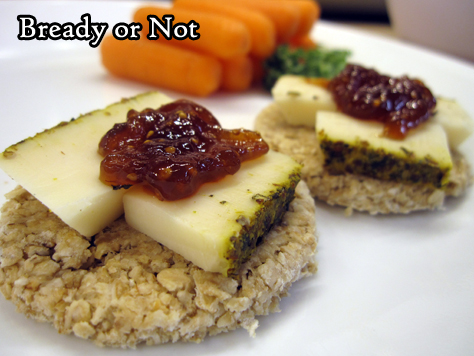 Pair oatcakes with cheese, sausage, and mayhap a nip of scotch.
Bready or Not Original: Scottish Oatcakes
These easy-to-make oatcakes act as wholesome platforms for cheese and charcuterie. If you need gluten-free food, use GF old-fashioned oats. Makes about 20 oatcakes using a 2.5-inch cutter.
Equipment
food processor

large cookie sheet

cookie cutter
Ingredients
2 1/2

cups

old fashioned oats

2

Tablespoons

unsalted butter

1

teaspoon

sea salt

1/2

cup

hot water
Instructions
Preheat oven at 375-degrees. Line a large baking sheet with parchment paper.

Place oats in a food processor and chop on HIGH for about 15 seconds, long enough to make them slightly less coarse.

Melt butter in a large bowl. Pour oats into the bowl. Stir to coat. Sprinkle salt over the top, then pour in water. Stir again to form a stiff dough that is just cohesive. If the mix won't come together, add more water in small increments.

Sprinkle flour (gluten-free flour, if necessary) on an even stretch of counter. Use palms of hands or a rolling pins to press oats into a flat, cohesive layer. Note that the oatcakes will not expand or grow when baking. Use a round cookie cutter to slice into discs.

Bake for 10 minutes. Use a spatula to gently flip them over. Bake for another 7 to 10 minutes. Let cool, then pack into sealed container.

Store at room temperature. Oatcakes can also be frozen, with wax paper or parchment between the layers, for as long as six months, and thaw quickly.