Cranberry-Candied Ginger Blondies with Macadamia Nuts! The name is a mouthful, but I assure you, the goodies make for delicious mouthfuls, too.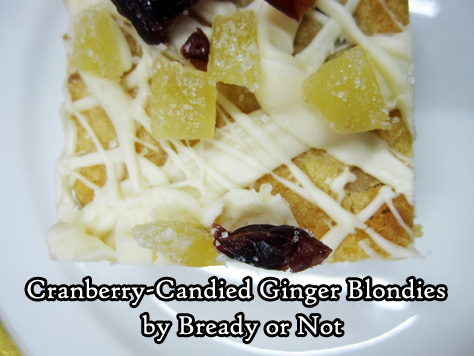 If the basic ingredients sound familiar, they should. I did a similar-sounding recipe just recently, but you'll notice, they don't look the same–nor do they taste the same, but both are excellent.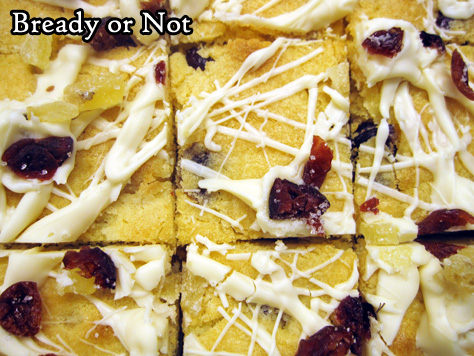 This recipe has a different sort of soft chewy texture, plus macadamia nuts. Macadamia nuts make almost everything better, right?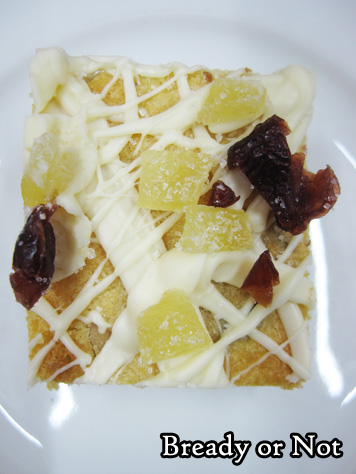 I think these look especially pretty because of the topping as well. You have to sprinkle on the cranberry and ginger bits fast at the end to make sure they stick in the melted white chocolate.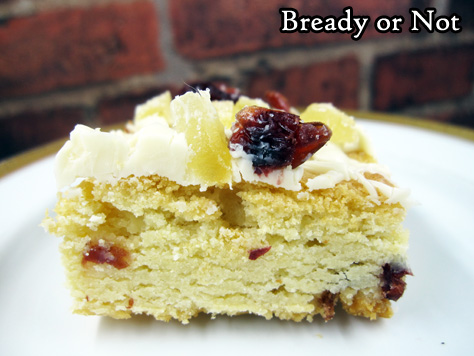 It'd be a tragedy if the pieces fell off. Then you have to eat them all. Darn.
Modified from Brownies & Bars Magazine.
Bready or Not: Cranberry-Candied Ginger Blondies with Macadamia Nuts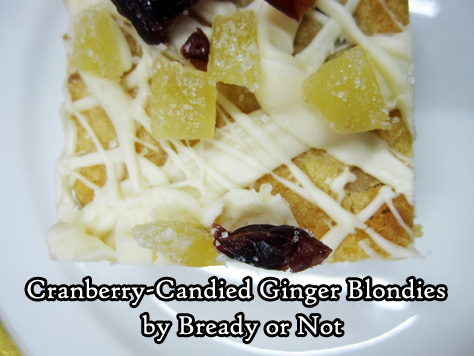 These soft, chewy bars include dried cranberries, crystallized ginger, and macadamia nuts inside and out.
Blondies
1 bag (about 11 ounces) white chocolate chips
1/2 cup unsalted butter, room temperature
3 eggs
1/2 cup white sugar
1 3/4 cup all-purpose flour
1 teaspoon vanilla extract
1 cup macadamia nuts, coarsely chopped
1/2 cup dried cranberries
2 Tablespoons chopped candied ginger
Topping
4 ounces white chocolate chips
1 Tablespoon shortening
2 Tablespoons chopped candied ginger
1 Tablespoon dried cranberries
Preheat oven at 350-degrees. Line a 13x9 pan with foil and apply nonstick spray or butter.
In the microwave or in a saucepan on the stovetop, at low heat warm the bag of white chocolate chips until melted. In the microwave, that means brief bursts at low power and stirring well between each pass--watch it, as it can burn fast! Stir in the butter until it's melted. Set aside to cool for 15 minutes.
Whisk the eggs and sugar into the white chocolate mix followed by the flour and vanilla. Fold in the macadamia nuts, cranberries, and candied ginger. Spread evenly in the ready pan.
Bake for 28 to 30 minutes, until top is light brown and center passes the toothpick test. Cool pan completely.
In the microwave or in a saucepan on the stovetop, melt the white chocolate and shortening over low heat until smooth. Drizzle over the bars. Immediately sprinkle the remaining ginger and cranberries over the top and gently tap them into the drizzled chocolate. Let set at room temperature or fridge.
Use the foil to lift contents onto cutting board. Slice into bars. Store in sealed containers with waxed paper between the layers.
OM NOM NOM!