Happy Halloween! Today I bring you a major treat, no tricks. These Pumpkin Pie Snickerdoodle Bars will boggle your mind in the best kind of way.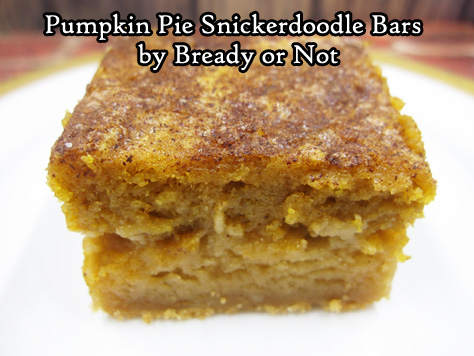 That's because these bars really do, in fact, taste like a combination of Snickerdoodles and Pumpkin Pie. Crazy, right?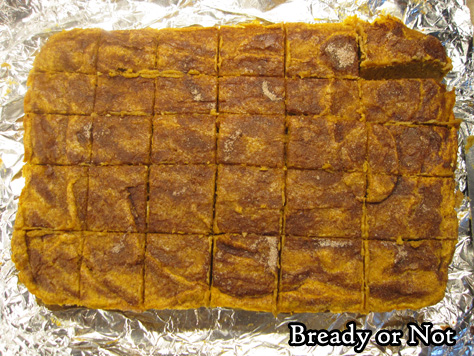 And since those two things are delicious, that means these bars are REALLY REALLY GOOD. Not just the flavors, but the combination of textures.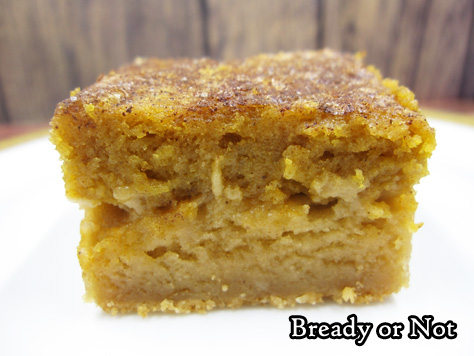 That's because these are soft and dense, easy to eat in hand or with a fork. The ones in the middle might end up a little gooier, though. Not necessarily a bad thing.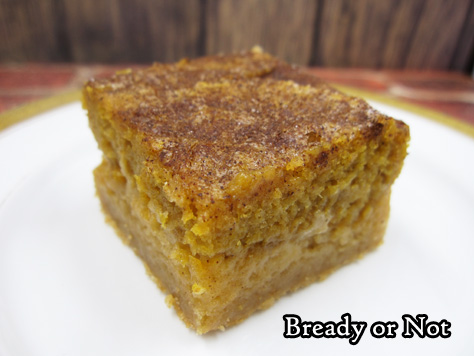 The list of ingredients looks long but it actually comes together pretty fast. The ingredients are so alike, I didn't even bother washing the bowl and beater, which saved a lot of time and effort.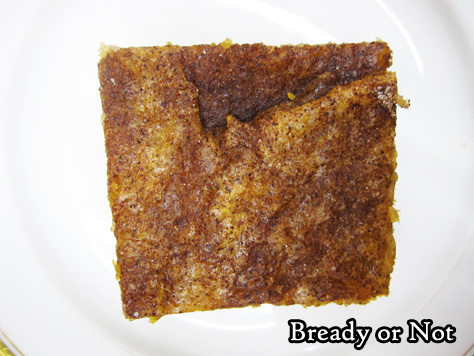 This makes a full 13×9 pan, so this is perfect for a potluck or family gathering. They might get softer after the two day point, but they will still be tasty.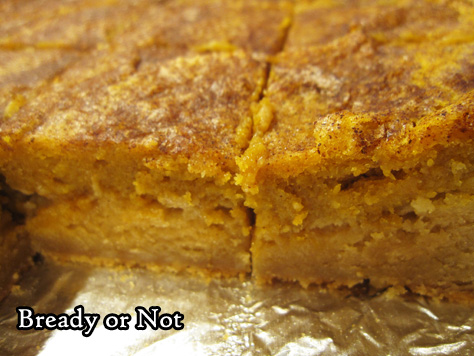 Bready or Not: Pumpkin Pie Snickerdoodle Bars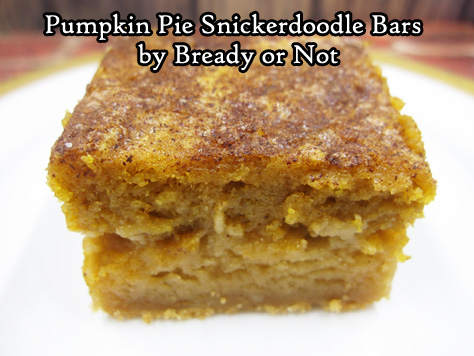 This recipe magically melds Snickerdoodle Cookies and Pumpkin Pie in a convenient, delicious bar. Make this treat to feed a hungry crowd!
Cookie Layer
1 cup (2 sticks) unsalted butter, room temperature
2 cups brown sugar, packed
2 eggs, room temperature
1 Tablespoon vanilla extract
3 cups all-purpose flour
1 teaspoon baking powder
1/2 teaspoon salt
1/2 teaspoon cream of tartar
Pumpkin Pie Layer
1/2 cup (1 stick) unsalted butter, room temperature
1 cup white sugar
2 eggs, room temperature
1 teaspoon vanilla
1/2 teaspoon baking powder
1/2 teaspoon salt
1 heaping teaspoon pumpkin pie spice
1 cup all-purpose flour
15 ounce can pumpkin puree
Topping
2 Tablespoons sugar
1 teaspoon cinnamon
Preheat oven at 350-degrees. Line a 13x9 pan with foil and apply nonstick spray or butter.
To make the cookie layer, cream together the butter and brown sugar. Once they are smooth, add the eggs and vanilla. Next, mix in the dry ingredients: flour, baking powder, salt, and cream of tartar. Spread the mixture evenly in the pan.
Next up is the pumpkin pie layer. No need to wash the bowl. Cream together the butter and sugar followed by the eggs and vanilla. Add the baking powder, salt, pumpkin pie spice, and flour. Once they are just mixed, fold in the pumpkin puree. Spread the everything over the cookie layer.
Spoon together the topping and add it evenly over the top of the dough.
Bake for 38 to 41 minutes, until toothpick inserted in the center comes out clean (though it may still be softer when cut). Cool at room temperature at least an hour, then chill in fridge for several hours. Use the foil to lift the contents onto a cutting board to slice up.
Keep stored chilled in a sealed container between waxed paper layers. Best consumed within 2 days; bars get mushier after that, but are still tasty.
OM NOM NOM!