So you're going to attend a genre convention as a panelist. Whoo hoo! If this is your first time, it's normal to be nervous. If this is your thirtieth time, it's normal to be nervous.
Here are some tips to get you geared up, regardless of the content of your panel(s).
5) Know your schedule before you get there.
Carry a notebook or Post-It pad. Make sure your entire schedule is in there–panels you're on, panels you want to attend, or any other important events during the con. Why? The paper-bound con guide can be very unwieldy to carry or poorly organized. Sure, the con may have an app or allow you to save your schedule online, but the internet can and will go down. Some convention centers get absolutely horrid reception.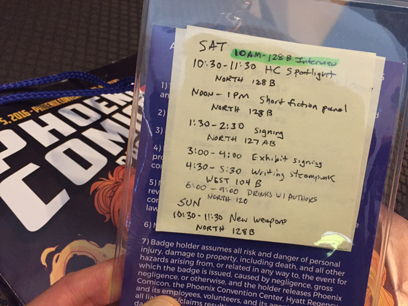 I like to use Post-It notes. If my badge is in a plastic sleeve, I will slip the sticky notes right inside the back so I can reference my schedule at a glance without having to dig into my purse in a big crowd.
4) EAT. Seriously.
Food is kinda important, but the very nature of conventions can make it hard to eat. Your schedule might have you booked solid, or the venue might not have restaurants close by, or you're on a restricted diet. You need to take care of yourself. The last thing you want is to have low blood sugar in the middle of your panel and be listless or feel faint… or for your stomach to be growling like a caged werewolf.
Bring a stash of snacks–granola or energy bars, nuts, jerky, something safely portable. Use Google Maps or Yelp to map out nearby eateries ahead of time; you can focus the online map and search for places right nearby!
If you're feeling weak and hungry, don't be afraid to ask for help, either. I bet someone will have some food on their person or be willing to dash for the nearest snack bar for you.
3) Know the layout of the convention.
Large convention centers were surely designed the same folks who create video games dungeons. There are dead ends, winding corridors, nonsensical room numbers, boss monsters. Sometimes the maps shown online or in the con booklet aren't that useful, either, because they don't clearly show where floors connect to different levels or across streets.
Reserve some time right at the start of the convention to walk the grounds. Find where your panel(s) will be, and also where you might find the nearest water fountains or bathrooms.
2) Read up on your fellow panelists.
If you have time, read a book or two by your fellow panelists, or at the very least, read their biography, know where they are from, and where they have been published. Maybe there is someone you want to get to know more, so you want to sit beside them to chat; or maybe there is someone you know you want to sit far, far away from.
(Note: A lot of conventions will have a space in their initial questionnaires about "who I do not want to be on a panel with." You should also feel free to turn down a panel if you think it's a poor fit or that you'll clash with another panelist.)
1) Jot down notes during the panel.
I like to use a pen and paper. Some folks use their phone instead. Whatever the medium, it's nice to have a way to jot down quick notes during a panel. Why? Sometimes questions are long and convoluted, or maybe a fellow panelist will babble on so long that you forget the original question. Maybe someone will mention a book or author that sounds really good. Maybe you need to keep score of something, or need to preserve a neat tip or research morsel. Don't trust yourself to remember anything during the low-sleep high-craziness action of a convention.
All of these tips revolve around a central concern: YOU. Take care of yourself. A little work to prepare will make for a less-stressful, happier time during your convention!
Reposted from Novelocity.
#SFWAPro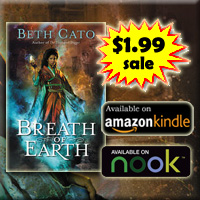 Save