I first met Adam years ago when we were both just starting out on our journeys as writers. We shared an early issue of Crossed Genres and have stayed in touch ever since. He's had a lot of exciting things happen in the past few years–like being named an associate editor at KHP Publishers, and writing the official novelization for the animated movie War of the Worlds: Goliath.
I think the first question most folks would have about this is, how does it fit into the War of the Worlds story that we know best from the 1950s movie? (I'm going to pretend the Tom Cruise version doesn't exist.)
Thanks for having me, Beth!
This story actually ties in directly with the original H.G. Wells novel as opposed to any established film continuity. The Gene Barry film took place in the 1950s, but War of the Worlds: Goliath takes place in 1914, fifteen years after the failed invasion of the novel. In Wells's novel, we see the Martians defeated by the germ, but it leaves us with a big question: "What next?"
Goliath is all about answering that question. We're shown a world broken and rebuilt using recovered and reverse-engineered alien tech, and most of the world is content to adopt these "gifts" and go about their lives, sure that the germ will protect them from any future attempts. The veterans of the War of the Worlds, however, aren't willing to sit idly by. They know the Martians plan to return, so they take advantage of the fifteen-year respite to prepare.
This is very much a period piece, as it's set in 1914. Beyond the screenplay, what research was involved?
More than I'd bargained for, actually. I learned more about World War I while doing research for the book than I ever learned in school. For example, the film mentions the assassination of Archduke Franz Ferdinand as a catalyst for the war, but that's all. I wanted to show it, to give this significant international incident its proper context. So I read numerous accounts of the assassination and the events that led up to it.
I also read up on Theodore Roosevelt, Nikola Tesla, Lord Herbert Kitchener, and the Red Baron. For the final third of the book, I stared at maps of Manhattan Island until they burned into my retinas. I will never get lost in New York City again!
At one point, I actually found myself researching cigarette lighters at 3 AM, trying to find out what was available in 1914.
There was no shortage of material from Tripod Entertainment either. Joe Pearson (the director) and Leon Tan (producer) sent me page after page of concept art, character backgrounds, and blueprints. Those guys thought of everything. They planned those tripods you see on screen down to the very last rivet. Leon sent me a lot of material on the martial art silat and the proper use of a keris to make Shah's combat scenes as authentic as possible. I couldn't tell you how many silat videos I watched online. It was a bit overwhelming at times, but the production team was fantastic to work with.
I love the idea of steampunk technology evolving from an alien invasion. That sounds like it'd be great fun to write–was it? Did your experience in writing post-apocalyptic settings help?
It was a blast! I'd already dabbled with steampunk elements in my debut novel, The Weller, but Goliath took it so much further. I've always wanted to do a giant robot/mecha story, and this book gave me the opportunity. Halfway through the manuscript, Joe Pearson and I started discussing some of the comic stories set in the Goliath universe that were published in Heavy Metal, and we decided to incorporate some of those into the story to expand on things only hinted at onscreen. It gave me the opportunity to explore some of the dangers of the salvaged alien tech, things humanity simply wasn't (and perhaps still isn't) ready for.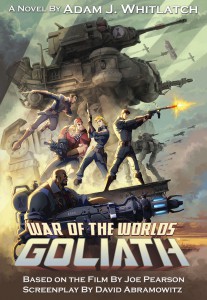 My experience with The Weller prepared me for this story more than I ever realized going in. Writing about the broken ruins of Leeds and the urban decay of post-invasion Sarajevo came to me freely. The only big difference is that I got to show the destruction as it unfolded in most cases.
We both grew up with video games and anime, so how thrilling is it to have a gorgeous, manga-style cover like that?
Isn't it beautiful? I have the full sized poster of the original artwork in a frame on my office wall. The cover was the easiest part of the whole process. Tripod sent KHP a folder full of artwork to choose from, and as soon as we saw that art, we knew it was a winner. It didn't take long to come to a decision, and the guys at Tripod loved it, too.
How did this project come to you?
I asked.
Well, it goes a bit deeper than that. My wife, Jessica, is a huge fan of Peter Wingfield, who voices Eric Wells in the film, and she's a member of his fan club. I've been a fan of Peter's since his days on Highlander: The Series, and I'd read about War of the Worlds: Goliath in Heavy Metal for a couple years prior to the film's release, but Jess kept a closer eye on the movie's progress than I did. She met Joe and Leon through the fan club on Facebook and introduced me to them.
After I got to know them, the idea of a novelization popped into my head. I didn't have the faintest idea of how to approach it, though, so I went to my co-worker Jerrod Balzer because he's written two novelizations for independent films. He told me to "Just ask 'em." So I did.
I sent Joe and Leon an email with samples of my work and chewed my nails while I waited for a response. I was sure that I'd get a polite brush off being an unknown writer with only one published novel to my name, but Joe jumped at the idea. He sent me the screenplay, and I read it in about two hours. As soon as I read it, I knew there was no turning back.
What's the target audience?
Fans of H.G. Wells, of course, but the book also appeals to military science fiction fans. It understandably has a significant following among steampunk fans already. Alternate history buffs will dig it. It covers such a wide spectrum of SF fandom.
The film is PG-13, but the novelization incorporates some more mature elements. I try not to target specific age groups with my writing because I read pretty mature material in my early teens, but I read a lot of books aimed at younger readers today. My fourteen-year-old son read Goliath twice in one sitting.
Where can the book be purchased?
The book is currently available on Kindle, Nook, Kobo, and Apple iBooks devices in over fifty countries. Links to each edition can be found here.
I'm working with Tripod to put together a paperback edition. No set release date for that yet. Stay tuned.
---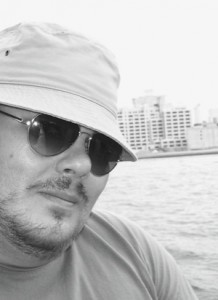 More about Adam: Adam J. Whitlatch is the author of The Weller and War of the Worlds: Goliath as well as dozens of short stories and poems spanning the genres of science fiction, fantasy, and horror.
A fantasy enthusiast from a young age, his interest in science fiction was first sparked at the age of ten when his father played the infamous 1938 Orson Welles War of the Worlds radio broadcast for him on Halloween. It's a tradition Adam carries on to this day.
Adam lives on a small farm in southeastern Iowa with his wife and their three sons.