Today I welcome author Josh Vogt. He has two very different novels releasing soon–when he debuts, he debuts with style! Be sure to check out his website, too, as he has created a phenomenal resource for writers at any stage in the process.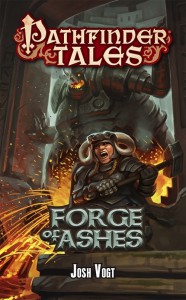 – Your debut novel is set in the Pathfinder world. What was that submission process like?
I started out simply wanting to get involved with RPG writing, so, after having some pro sales, I sent samples around to various game developers and publishers. James Sutter, Paizo's head editor, liked my work and ended up buying a couple short stories from me: The Weeping Blade and Hunter's Folly. After that, he asked if I wanted to pitch a novel, which involved a pretty in-depth outlining and approval process—but it all worked out in the end!
– How much reading and research was involved to ground you in Pathfinder?
I read at least 15 of the other Pathfinder Tales novels, partly to figure out what other authors had been doing in that world. I also scoured dozens of manuals and supplement guides to give myself a firm base. Since I've been a gamer most of my life, I was already somewhat familiar with the setting, but I definitely had to brush up in a lot of areas. Fortunately, James was quite helpful in offering suggestions if I ever got stuck on a particular plot point.
– What's FORGE OF ASHES about?
It focuses on Akina, a dwarven barbarian who returns to her mountain home after fighting abroad for a decade. But when she discovers her family has been disgraced and her mother has disappeared into the deadly tunnels beneath the city, she sets out to find out what really happened in her absence–which crosses her path with plenty of monsters, magic, and mayhem!
– I love that your main character is a female dwarf. Was writing that perspective as fun and intriguing as it sounds?
Absolutely! I enjoyed exploring dwarven culture through her eyes, since she's a bit of an outsider in her own home when she returns. People have certain expectations of her, or expect her to act a certain way given her instinctively violent nature, but it was fun to discover the other facets of her character beyond the fight scenes and usual dwarven stereotypes.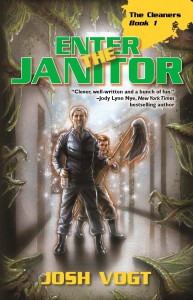 – Now, you have quite a year ahead as you also have two novels forthcoming from WordFire Press. Can you share more about the first book that comes out in May? Is it set on Earth?
It is on Earth, yes. The title is Enter the Janitor, and it's the first book in my dark humor urban fantasy series, The Cleaners. In Enter the Janitor, Ben is a janitor who works for a supernatural sanitation company that keeps the world clean and safe from "Scum." His latest job involves tracking down an imbalance between Purity and Corruption that could wipe out whole cities while also keeping his new, germaphobic apprentice alive.
– "Supernatural sanitation." I can't help but grin when I read that. What inspired this?
It was one of those little "mind shifts" I occasionally have when brainstorming new ideas. I read a lot of urban fantasy, where you've got wizards as detectives or secret societies of occult government agents and whatnot. But then I wondered what if a wizard or mage took a different career path…as a janitor or maid or plumber? They could easily infiltrate almost all of society, protect us from magical threats behind-the-scenes, and still have their staffs and wands in the form of mops and squeegees. Once I got to thinking about it, everything fit quite naturally.
– What's an average work day like for someone in the supernatural sanitation field? I hope they make more than minimum wage…
There is actually a good deal of grunt work for your average Cleaners employee. They keep up the appearance of normalcy by tending to public bathrooms or providing in-home maid services, all the while alert for threats from Scum and other nasties that want to corrupt the world and everyone in it.
– Do you have preorder links for your books? Please share!
Sure thing! Here are two for Forge of Ashes at Paizo and on Amazon.
Enter the Janitor will have preorder links soon!
– You have a fantastic collection of helpful links in your Writer's Toolbox. What is some of your favorite advice for writers who are just starting out?
Don't stall out on any one project. Get your story written, even if it's not the best first draft. Then, as you revise and polish that draft, start also working on the next story. Always be moving forward so you don't get stuck with an unfinished manuscript that just gets the first few chapters reworked every so often.
– I have to ask… what is your favorite type of cookie?
Mint chocolate flavored of any size or shape!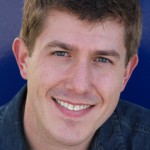 – Is there anything else you want to add?
Sure! I've got a little YouTube channel I've been slowly, but steadily fleshing out with videos from various events, conventions, or just me talking about the writing adventure I'm on. Folks can often find news and updates there, plus snippets of panels or presentations I've done.
– Thanks for dropping by, Josh!
About my guest: Josh Vogt has been published in dozens of genre markets with work ranging from flash fiction to short stories to doorstopper novels that cover fantasy, science fiction, horror, humor, pulp, and more. His debut fantasy novel, Forge of Ashes, adds to the RPG Pathfinder Tales tie-in line. WordFire Press is also launching his urban fantasy series, The Cleaners, with Enter the Janitor (2015) and The Maids of Wrath (2016). You can find him at JRVogt.com or on Twitter @JRVogt. He's a member of SFWA as well as the International Association of Media Tie-In Writers.