I've known Lydia for years, since we were critique partners on Online Writing Workshop. I still hope to see her book Stealing a Dream in print someday. She's here today to talk about her experience working on Unburied Treasure as both a writer and illustrator.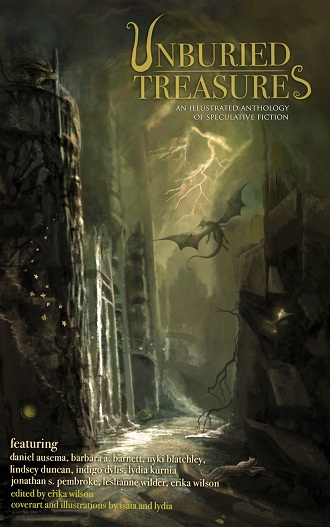 – First of all, you just attended Supanova Pop Culture Expo, where your work on a friend's book cover and trailer was shown in public. What was that like?
It was amazing. I always love these events, so much energy and fun. My husband and I should have come as Sherlock and Dr. Watson but blame it on my poor planning.
Isaia and I actually worked on an artwork for my friend's website: 3 Dragon Ladies, which is currently in construction. It will be a site where the three dragon ladies – Ciara Ballintyne, Dionne Lister, and Melody-Ann Jones Kauffman – join forces to share their honest thoughts on various published fiction. Quite an exciting project, it will be awesome when it's up.
It was wonderful to see our artwork on display there, along with the book trailer which Isaia and I created for promoting Ciara Balllintyne's debut novella 'Confronting The Demon'. It was surreal to see it play on loop where people can watch. We're really proud of this trailer, cause it took a lot of planning and care to get right. These creative projects are always fun to do.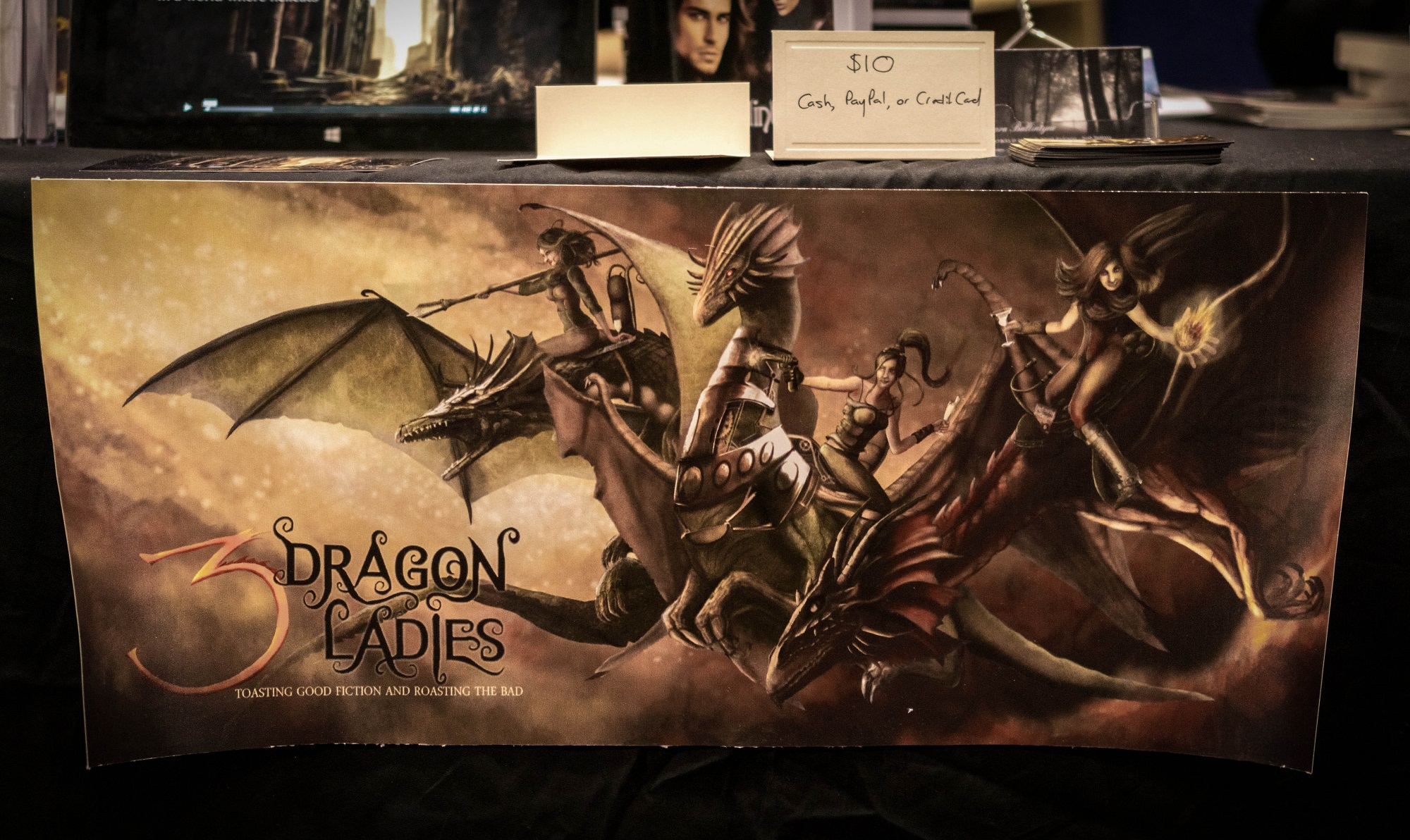 – What was your artistic process like for this book? How did you and Isaia decide on who illustrated what?
Isaia and I have collaborated on so many artwork, we hardly ever need to discuss anymore who does what. He is the master of landscapes and buildings, so he gets to be in charge of those; whereas I get to focus on the characters in the scene. For the anthology, I became like a bridge between authors and artists. Lovely Erika Wilson who collected and edited the submissions would send the stories to me and I would read them then discuss how to visually present the tale with Isaia. He would then do his magic with mountains, rocks and trees, and I would fill the scene with dragons, leopards, bears, whatever the story needs. It worked out well for us. I certainly enjoyed the process.
– You have a story in the anthology as well, one that's very unique because it draws on Balinese mythology. Are there other creatures from Indonesia that you would like to write about (or that others should know about)?
Oh yes, there are many! I grew up reading Indonesian folklores and I don't think the world knows much about Indonesian mythology, I should really be the ambassadors of these legends. Ha.
Indonesian folktales like to draw on animals as characters of moral (or immoral in some cases). There is kancil, which is also known as mouse-deer because he has body of a deer and face of a mouse, although he is neither a mouse or a deer. He is a trickster, very smart and quick especially when he is due to become someone's food. I would love to write a kid's story featuring kancil. Other mythology creatures include battling monkeys, magic golden snails, sisters of garlic and shallot, vain peacocks… many exciting heroes and villains which I would love to use in stories one day.
– How do you divide your time between art and writing these days?
To be honest, I don't. I'm rubbish at multitasking. These days, the ratio of drawing vs writing is disproportionately for the first. I guess it's due to the demand which is currently more in illustration space. I know I should be writing more. I do miss the good old times when I could easily churn out 2000 words/day. I do hope I get back to it one day.
– What personal projects are you working on?
I have plans to publish 'Stealing A Dream', I really do. I just need to edit a few (difficult yet awfully important) parts of the story, and I'm suffering a major roadblock on those. But I'm doing it. Slowly. I'm also working on the illustrations. In fact, I finished all fifty of them, just they look kinda sucky so I'm retouching and redrawing from scratch.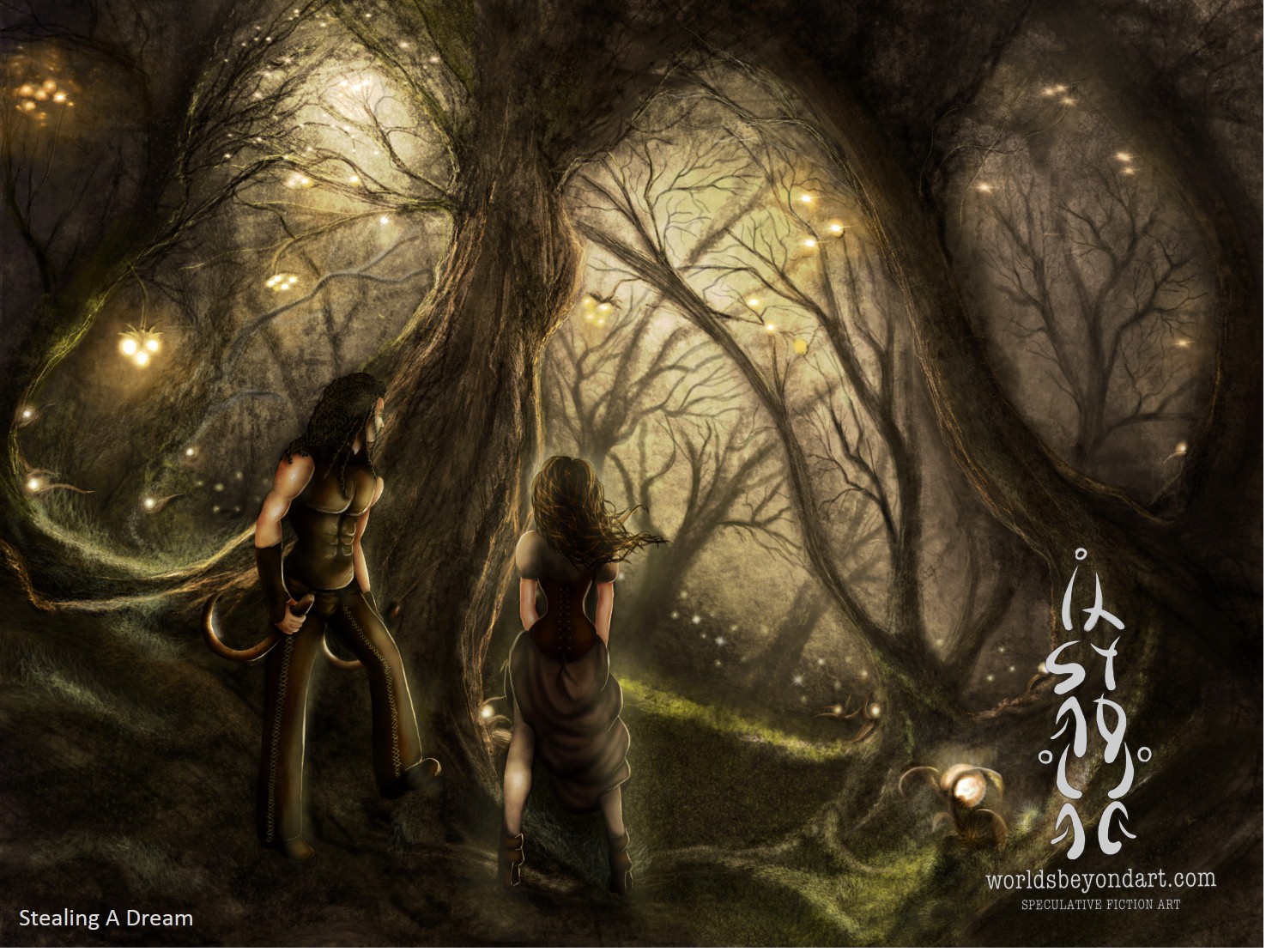 From the desk of 'Worlds Beyond', Isaia and I are currently in contract for illustrating a serial fiction and two book covers. We're also working on a portfolio showreel to put on our website so people know how we work and what we offer.
Busy time. I'm absolutely loving it.
– Are there plans to do another anthology like this?
Yes. The plan is to publish one every year. This anthology idea is actually not mine; the credit should go to our friend Leslianne Wilder who gathered us all and published 'Trespass' last year. I just wanted Isaia and I to illustrate this edition so the publishing job went to me, ha. I would love to invite more authors to join us as we grow. We will see how we go.
Thank you, Lydia! I wish you all the best with Unburied Treasure and all of your other projects!