I'm hosting my friend Sara Dobie Bauer on my blog today. She just released her short story "Forever Dead" on Amazon. Read on to find out more!
– What's the summary of "Forever Dead?"
Even centuries didn't prepare Dario for Zach Mede and a love that took his vampire heart by storm. But loving a mortal holds dangers of its own. A mortal can be murdered … and murderers are everywhere.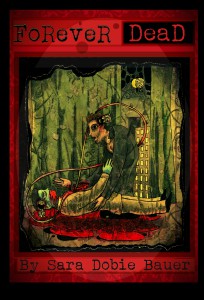 – What's the story behind this story?
I've loved reading about vampires since Interview with the Vampire in sixth grade. BBC Sherlock fan fiction got me into gay erotica. (If you don't know, don't ask. It's addicting.) I woke one morning with an image: what if a vampire attack turned into a furniture-breaking sex romp and eventually … love?
I'm also terrified of losing the man I love, my husband Jake. FOREVER DEAD forces you to deal with this question: What would you do differently if you knew the person you loved was about to die?
– Do you have a favorite line or paragraph?
[Note: NSFW content in paragraph below.]
"Five years prior, I realized I was disturbingly in love with Zach while I was inside of him, which some would say doesn't count. Endorphins getting in the way or something. But it wasn't that; it was the way he looked at me, his tree trunk thighs wrapped around my waist. I was on top, moving gently, as I so rarely do, with one hand on the side of his neck. My thumb touched his Adam's apple. His eyes raked over my face like he'd never seen me before. Then, he closed his eyes and came. It was like watching the sunrise over the apocalypse. Doomed."
– What do you like most about writing male x male?
The rough sensuality of it. Men are tough, brutal at times, especially with each other. They're trained from birth to put on a strong face for the world, but what happens when the mask slips, when the weakness shows?
Beyond that, I love men. Love them. Like a profiler, I wander around inside their heads, which is why I often use male protagonists. I'm a woman; I understand women. Being inside the head of a macho dude is my form of escapism.
– Was there a character or section that gave you particular grief?
To be honest, the ending. I had to make a choice: does Zach live or die? You'll have to read to find out.
– What other authors do you think influenced "Forever Dead?"
Anne Rice (vampires)
Christopher Rice (sex)
Elmore Leonard (bad-ass boys)
– Is there a song/soundtrack that you feel sums up the mood of this story?
"Before I Ever Met You" by BANKS
– Where can "Forever Dead" be purchased?
On Amazon! Head on over and read, review, and seduce your significant other (once you're done reading, of course). Check out FOREVER DEAD on Goodreads, too.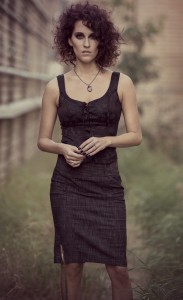 All About Sara:
I'm a writer and prison volunteer in Phoenix, Arizona. I have an honor's degree in creative writing from Ohio University and am the official book nerd and sex-pert at SheKnows.com.
When not writing, I watch bad horror films, root for the Pittsburgh Steelers and the Michigan Wolverines, and enjoy a good rye whiskey. Although I have a shameless crush on Benedict Cumberbatch, I'm married to my best friend Jacob and play mother to dog-children, Ripley and Raylan.
Check out my blog for more! Oh, Twitter, too.