I review everything I read and post reviews on Goodreads and LibraryThing. That's not enough. Good books are meant to be shared. Therefore, I'm spotlighting some of my favorite reads here on my site.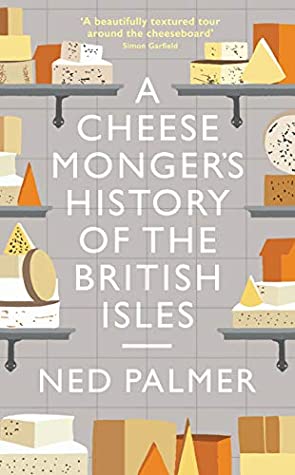 A Cheesemonger's History of The British Isles by Ned Palmer
out now in print and ebook; BookShop, B&N, and Amazon [affiliate link]
A fun frolic of a book for those, like me, who love cheese and history! Palmer is a cheesemonger and he knows his subject well, having not only sold the cheese but interacted with and even made cheese with the small-operation makers. There's no snobbery here, though–the mood of the book is enthusiastic for cheese. That's something I can totally get behind.
There is mild overlap with some other books on cheese, notably Kinstedt's Cheese and Culture, but not that much, as Palmer goes much deeper into historical British cheese than any other book I have read. He hones in on some specific cheeses like Wensleydale, Cheshire (new life goal: become a cheese pirate), and Lanark Blue to explore the revolution of cheese as a food and as an industry, bringing the narrative right up to the present day. The book is fascinating throughout, a breezy read that is also informative. I felt the need to share factoids with my husband as I read in the evening.
I highly recommend this book to other cheese lovers, but be warned–if you're not in the UK, it will torment you to read about so many cheeses that are not readily found abroad! Oh, how I yearn to find that Stonebeck cheese…