I review everything I read and post reviews on Goodreads and LibraryThing. That's not enough. Good books are meant to be shared. Therefore, I'm spotlighting some of my favorite reads here on my site.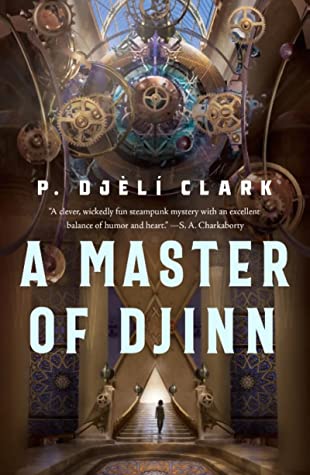 A Master of Djinn (Dead Djinn Universe #1) by P. Djèlí Clark
out now in print and ebook; BookShop, B&N, and Amazon [affiliate link]
I received a galley of this book via NetGalley.
P. Djèlí Clark is one of the best historical fantasy authors out there right now, and his debut novel proves it yet again. I've enjoyed his novellas set in this same magical, steampunk-tinged Cairo as well as his Nebula-nominated Ring Shout, but this novel is even better because it delves deeper into the setting, into the characters.
The set-up of the book uses the formula of most mystery novels: it begins by showing a murder, though the victim's perspective. It then switches to the investigation. Fatma is a dapperly-dressed woman, one of few who work within the Ministry of Alchemy, Enchantments and Supernatural Entities. She's called to the scene of a disturbing mass murder that reeks of magic, and soon encounters something she finds even more disturbing: she has been assigned an enthusiastic new partner. The gruff detective wants no part of this arrangement, but together they start an investigation that abounds in dark magic, conniving angels, and powers no human should command.
The book doesn't shy away from the horrors of colonialism, homophobia, and racism. The world feels realistic, even filled as it is by djinn and spirits and old gods reborn. Fatma is a fantastic heroine–a rare lesbian lead character. She's smart, impeccably-dressed, and I couldn't help but root for her from the very start. The plot of the book has many twists and turns, and while I predicted the identity of the Master of Djinn early on, that didn't spoil my enjoyment one bit.
I hope there are many, many more books set to come in this world.