I review everything I read and post reviews on Goodreads and LibraryThing. That's not enough. Good books are meant to be shared. Therefore, I'm spotlighting some of my favorite reads here on my site.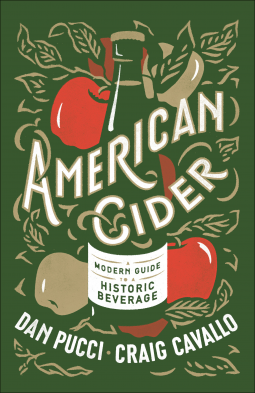 American Cider: A Modern Guide to a Historic Beverage by Dan Pucci & Craig Cavallo
out now in print and ebook; BookShop, B&N, and Amazon [affiliate link]
I received an advance copy of this book via NetGalley.
American Cider sets about–and succeeds–with two major goals. First of all, it essentially lays out American history, region by region, by following the progression of apple trees, and by extension, the brewing of cider. It doesn't ignore the fact that this is also a story of colonialism. White settlers brought their seeds and scions, and the planting of apple trees was among the first things done when establishing households in what was once Native American land. Likewise, when tribes were forced from their homelands and onto reservations, the destruction of their buildings and apple trees was included in that effort. Props to the authors for being up-front about that aspect of apples–that honesty ads a lot to the book, and prevents it from feeling like a lengthy propaganda piece on the awesomeness of apples…
…Though let us not deny, apples are indeed awesome. The authors' passion and knowledge of their subject matter also comes through, loud and clear. This isn't a book for the person vaguely-interested in apples and cider, though it is an engaging read all the way through. This is a book for the foodies, for the people who really love cider and wants to understand it more, and those who are interested in starting their own cidery.
On that note, the book's second major emphasis in in describing and exploring up-and-coming cideries across the country. Wow, did these sections make me want to go on a road trip and try everything that was out there. The information is pretty detailed. They lay out the geography and climate and how that impacts apples, what has been grown in the past, what grows now, and various other details about varying business operations. It definitely inspired me to buy cider at Trader Joe's this week when I recognized a name from this book.
I highly recommend this book for anyone who enjoys American cider and wants to understand the history, present, and future trajectory of the beverage. (As for me, I hope that trajectory means it is pouring straight down my gullet.)