I review everything I read and post reviews on Goodreads and LibraryThing. That's not enough. Good books are meant to be shared. Therefore, I'm spotlighting some of my favorite reads here on my site.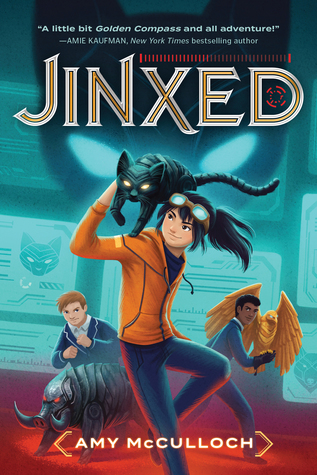 Jinxed by Amy McCulloch
out now; Indiebound, B&N, and Amazon
I received this book from the publisher via NetGalley.
This tense, smart middle grade book establishes a near-future Earth where only the poorest people have smart phones. Anyone who's anyone has a baku, which is a companion robot, computer, and accessory all in one. Lacey Chu is a brilliant young engineer with her hopes set on getting into an elite school that fast-tracks graduates to the Moncha corporation, where Monica Chan invented bakus. Lacey is devastated when she isn't accepted, and embarrassed when all she can afford is a measly level one scarab baku. But when she finds a piece of junk and hauls it home to her workshop, she's stunned to find it's a cat baku unlike any other. She fixes it up. Suddenly, her school rejection is undone. She's in! But as she starts her dream school, she realizes her baku, Jinx, is truly unique. He doesn't obey orders, as if he…. is alive.
This book is so much fun. You can't help but love Jinx. He's such a cat. Lacey is a great heroine, a kid with dreams and genuine drive. I found the book breathless in pace. I didn't want to put it down! My only complaint is that the book ends on a tortuous cliffhanger.