I review everything I read and post reviews on Goodreads and LibraryThing. That's not enough. Good books are meant to be shared. Therefore, I'm spotlighting some of my favorite reads here on my site.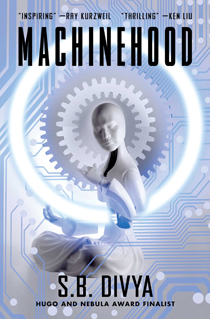 Machinehood by S.B. Divya
out now in print and ebook; BookShop, B&N, and Amazon [affiliate link]
From the Hugo Award nominee S.B. Divya, Zero Dark Thirty meets The Social Network in this science fiction thriller about artificial intelligence, sentience, and labor rights in a near future dominated by the gig economy.
Welga Ramirez, executive bodyguard and ex-special forces, is about to retire early when her client is killed in front of her. It's 2095 and people don't usually die from violence. Humanity is entirely dependent on pills that not only help them stay alive, but allow them to compete with artificial intelligence in an increasingly competitive gig economy. Daily doses protect against designer diseases, flow enhances focus, zips and buffs enhance physical strength and speed, and juvers speed the healing process.
All that changes when Welga's client is killed by The Machinehood, a new and mysterious terrorist group that has simultaneously attacked several major pill funders. The Machinehood operatives seem to be part human, part machine, something the world has never seen. They issue an ultimatum: stop all pill production in one week.
Global panic ensues as pill production slows and many become ill. Thousands destroy their bots in fear of a strong AI takeover. But the US government believes the Machinehood is a cover for an old enemy. One that Welga is uniquely qualified to fight.
Welga, determined to take down the Machinehood, is pulled back into intelligence work by the government that betrayed her. But who are the Machinehood and what do they really want?
A thrilling and thought-provoking novel that asks: if we won't see machines as human, will we instead see humans as machines?
I received an advanced copy of this book via Netgalley.
The year 2021 has just started, but I already know this is one of the best new science fiction books I will read this year. It's that good. Divya has created an utterly immersive future that is plausible and spooky all at once.
Welcome to a future Earth where designer drugs help people work and think faster in order to keep them competitive with advanced machines. Everyone has personal drone clouds that broadcast their activities to the world, with strangers casting money into their tip jar for deeds done well. Welga is a tough woman working in higher echelons of security when a client is killed by a new terrorist group. The Machinehood is demanding rights for bots–or else they'll shut down the pill trade and tech networks, essentially ending modern civilization. Welga tries to find out who and what the Machinehood really is, even as her own health begins to shatter. This is a read that ponders some very deep philosophical questions: what is a machine? what is sentient life?
Some scifi books with advanced tech this deep are so full of jargon they lose me within the first chapter. This book didn't. Divya builds details at the right pace. This isn't a book just about hard scifi, though. It's packed with genuine heart. Every character feels complex and realistic, as does the incredible diversity of ethnicities, religions, and genders. With the stakes so high and the plot so deep, I wondered if everything could pull together in the end–it did. The ending is satisfying and strong, and left me a little sad that it was all done.
Truly a stellar work, and the first one to go on my novel award nominee list for 2021.