I review everything I read and post reviews on Goodreads and LibraryThing. That's not enough. Good books are meant to be shared. Therefore, I'm spotlighting some of my favorite reads here on my site.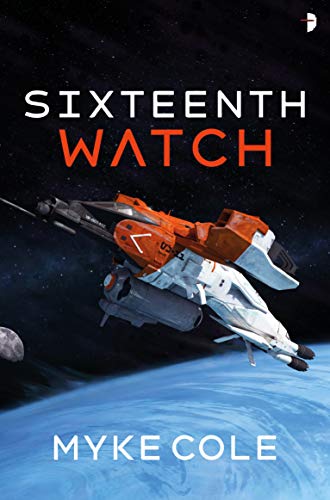 Sixteenth Watch by Myke Cole
out now; Indiebound, B&N, and Amazon
I received an advance copy of this book via NetGalley.
In Sixteenth Watch, Myke Cole has created a compelling, action-packed work of military sci-fi where United States settlers face off against Chinese interests on the moon–and the United States Navy and Coast Guard likewise face off, escalating an already hot situation into one that could go nuclear.
I trust Cole to get the military aspects right; I know the guy, and he knows his stuff. As a former Navy wife, I have some familiarity with the subject matter myself. The rivalry he writes about within the ranks here is absolutely plausible, on earth and the moon, and ratchets up the tension to a major degree. This is one of those books that is almost impossible to put down. You NEED to find out what happens next.
This isn't a thriller full of vapid action, though. At its heart are incredible, vivid characters that I came to care about. The protagonist is Jane Oliver, a Coast Guard veteran of decades who loses her sailor husband during an initial lunar flare-up between the US and China. Instead of taking a quiet retirement, she is invited back to the moon for a rather unusual challenge: to prepare an elite squad of Coasties for a reality game show that the Marines have dominated for years. This has not only impacted recruitment efforts on Earth, but also gives the Navy more power in the struggle for military dominance on the moon. Navy commanders are too keen on war, to Jane's thinking; the Coast Guard, carrying out a role on the moon similar to what they do on the ocean, is largely about deescalating tension and saving lives. It's awesome to see the Coast Guard be in the spotlight in a space setting because the role that they play (even without a literal coast to guard) makes absolute sense.
The reality show angle adds to the originality of the book, and again, I know Cole knows what he's talking about, as he is a reality show veteran himself. The stakes around the show feel realistic in this near-future setting, but hanging over everything is that threat of war with China.
This is a darn good book, and I hope it's the first in the series because I'd love to read more about these characters and this world.