I review everything I read and post reviews on Goodreads and LibraryThing. That's not enough. Good books are meant to be shared. Therefore, I'm spotlighting some of my favorite reads here on my site.
Sooner or Later Everything Falls Into the Sea by Sarah Pinsker
out now; Indiebound, B&N, and Amazon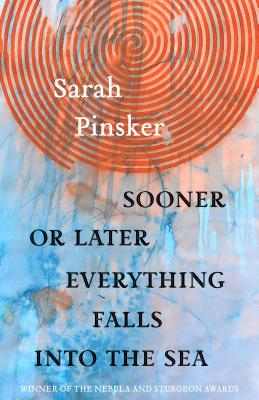 I received this galley through LibraryThing Early Reviewers.
Sarah Pinsker is among my favorite writers, and I was thrilled to read her new collection from Small Beer Press a few months in advance of release. When I say she's among my favorites, that also means I'd read most of the stories in this book before; four were new to me, but one sees its first publication in this book.
All of these stories are worth re-reading. Actually, they are worth studying on a technical level to understand why stories work. Pinsker doesn't write about big drama. She writes about people being people in sometimes extraordinary circumstances. There's a sense of subtlety to her works. In "A Stretch of Highway Two Lanes Wide," a man loses his arm, and along with his prosthetic he gains an awareness of being a road in remote Colorado. "Remembery Day" addresses PTSD and the effects of war on the next generation, without ever becoming preachy. In "And Then There were (n-one)," one of my very favorite novellas, period, she brings a brilliant spin to Agatha Christie's "And Then There Were None" by envisioning a cross-dimensional conference of hundreds of Sarah Pinskers on an isolated island in a storm–and one of them is murdered.
Because of this collection, I started my document to track my favorite 2019 releases to nominate for awards in 2020. Yes, this collection is that good.