I review everything I read and post reviews on Goodreads and LibraryThing. That's not enough. Good books are meant to be shared. Therefore, I'm spotlighting some of my favorite reads here on my site.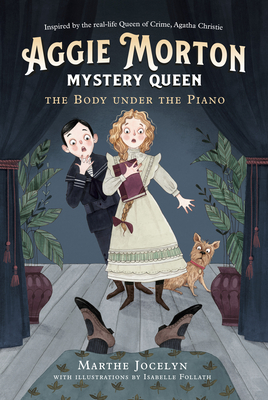 The Body Under the Piano (Aggie Morton, Mystery Queen #1) by Marthe Jocelyn
out now; Indiebound, B&N, and Amazon
I received an advance copy of the book from the publisher via NetGalley.
I need a time machine so I can go back to 1990 to hand my 10-year-old self this book. Almost-40-year-old me ADORED this novel, and I know my 10-year-old self would love it even more. Why? Because the book is smart, savvy historical fiction with an honest depiction of the era, and a heroine with a morbid bent that reminds me lot of myself–though Aggie is actually inspired by the childhood of the Queen of Mystery Writers herself, Agatha Christie.
Aggie is a young girl in 1902, growing up in a small British coastal town. She has a wild imagination and a taste for the macabre, and she can't help but get involved when her music teacher's cruel mother is found dead–dead of poison! Aggie and her friend Hector set out to investigate. Their methods are smart, but they also cause a lot of problems along the way, especially when a meddlesome local reporter gets tangled up in everything.
The characters are fantastic and fun, just as you expect in a cozy British mystery village; plus, they have fun portraits at the front of the book. One of the things I loved most was the honest depiction of the past. It was not sugar-coated. The book deftly addresses bigotry (Hector is a "foreigner," a Belgian refugee inspired by Hercule Poirot), sexism (girls can't/shouldn't do many things), and the complications that arise in this period from a child born out of wedlock. The book feels quite cozy with its fun mystery and whimsical characters, but also grounded in realism because of how these other issues are handled. The balance is so well done.
I highly recommend this book for kids and their parents. If the child isn't already into classic whodunits, this novel could very well be what kicks off a life-long love of the genre.