I review everything I read and post reviews on Goodreads and LibraryThing. That's not enough. Good books are meant to be shared. Therefore, I'm spotlighting some of my favorite reads here on my site.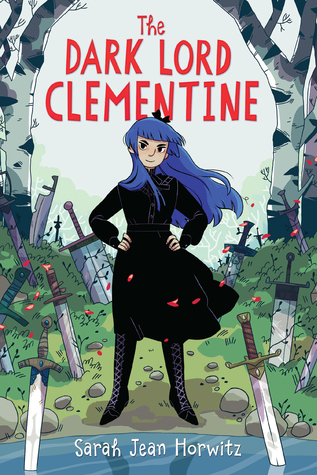 The Dark Lord Clementine by Sarah Jean Horwitz
out now; Indiebound, B&N, and Amazon
I received a gratis copy of the ebook for award consideration.
The Dark Lord Clementine is an incredibly witty, fun middle grade frolic in a fresh new fantasy world. I would have adored this book as a kid and enjoyed it as an adult too–and had to fight the urge to giggle aloud more than once as I read in a waiting room.
Clementine is the only child of the Dark Lord Elithor. She's been raised in isolation, instructed in the importance of villainy as she helps to manage their silent farm with nightmares and flaming chickens. When her father comes down with a dreadful curse, Clementine does her best to manage the estate, but as loneliness and desperation sets in, she is determined to take on the witch who cursed her father… and instead falls in with some people who might, possibly be her first friends.
What I loved about this book was that it's delightfully amusing and that the moral lesson of the book is always kept fun, never preachy. Clementine–and her dad–can't be TOO evil, after all. The end of the book is packed with surprises, too. Really, it's a fantastic read start to finish. How can I not love a book that has a spell-book-turned-into-a-chicken?