I review everything I read and post reviews on Goodreads and LibraryThing. That's not enough. Good books are meant to be shared. Therefore, I'm spotlighting some of my favorite reads here on my site.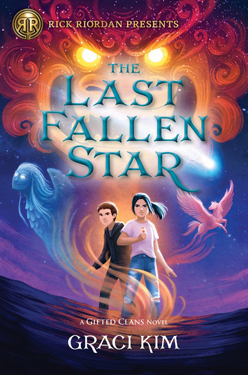 The Last Fallen Star (Gifted Clans #1) by Graci Kim
out now in print and ebook; BookShop, B&N, and Amazon [affiliate link]
I received an advanced copy of this book from the publisher via NetGalley.
Rick Riordan has done wonders for the lit world, not simply through his own books, but his support of other authors. I've read several middle grade books in his new Presents line, and there hasn't been a bad one in the bunch. Graci Kim's fun yet meaningful romp The Last Fallen Star is an incredible new novel inspired by Korean mythology and set in Los Angeles.
Riley is a relatable, great heroine from the start. She was adopted into a family of Gom, witch healers, but has no magic herself, much to her vexation. In an incredibly pleasant twist to familiar tropes, Riley has a fantastic relationship with her family, including her almost-the-same-age sister, Hattie. In fact, Hattie loves her so much that she's willing to do forbidden magic to split her magical power with Riley. Of course, everything goes wrong. The Gods and the supernatural get involved. Hattie is in terrible peril. Riley ends up on an urgent quest to save Hattie before her sister is lost forever.
The pace of the book is fast and punctuated by moments of humor and levity, but what I loved most was the story's genuine heart. The people here feel real and complicated. There are major messages of belonging and family, but they are not heavy-handed or suffocating. Plus, hey, the book is loads of fun, and a great way to learn about Korean mythology and culture. I not only want to read the next book in this series, but I want to read more of Kim's writing, too.