I review everything I read and post reviews on Goodreads and LibraryThing. That's not enough. Good books are meant to be shared. Therefore, I'm spotlighting some of my favorite reads here on my site.
The Library of Ever by Zeno Alexander
out now; Indiebound, B&N, and Amazon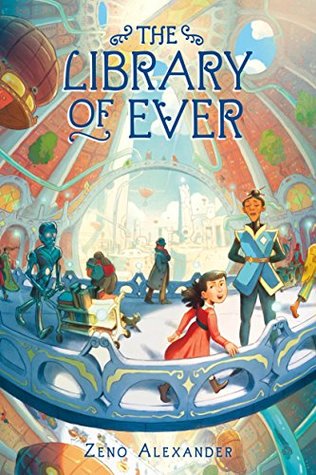 Oh my goodness, I adored The Library of Ever. This book is everything a cozy middle grade book should be. I wish I could go back in time and press it into the hands of my ten-year-old self with a conspiratorial wink.
Lenora is ignored by her wealthy parents and her nanny, but this comes in useful sometimes–like at the library. She makes her escape to the children's section where she confronts a man in a bowler hat who is trying to tell a young boy that books on science are too advanced for him. After seeing the boy get to the books he wants, a fantastic archway appears in what had been a blank wall. She walks through, and finds the Library of Ever.
I envisioned her adventures in the library like a Hiyao Miyazaki anime. Everything is fantastical and weird, yet within this world, absolutely believable. Lenora is quickly dubbed a library worker of low rank, bestowed a badge and everything, and happily goes to work. As she helps patrons–jumping ahead in time to resolve a calendar issue, wandering a massive globe and befriending whales and penguins (and finding out some purported facts about the longest town name and highest mountain aren't true)–her rank advances, as do her responsibilities.
While the book is sure fun, there's also a powerful message behind everything about the dangers of censorship and the power of knowledge. The men in bowler hats are a threatening force. As Lenora is scolded at one point, "I thought you were wise enough to understand that children must be discouraged from asking questions that will make them curious and fretful. Perhaps I overestimated you. After all, you're just a child yourself."
"Maybe," said Lenora, with equal frost. "But I'm also a librarian. And I'm not going to hide the truth from anyone."
Just typing that up again gives me chills. This book is powerful. It's charming. It's an inspiration. Plus, it's hilarious. Sure, there's a message, but it's wrapped up in whimsy and joy. This would be a great book to read aloud to a group or class. I found it to be a fast read, too; I zoomed through in about 45 minutes.