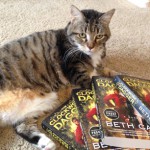 I'm ecstatic to announce my first signing event will be on Friday September 19th at 7pm at Changing Hands Bookstore in Tempe, Arizona. My infamous baked goods will be served, I'll read an excerpt from The Clockwork Dagger, and I'll sign stuff. Changing Hands is a great local independent bookstore chain. If you click on that link above, you can also order signed books directly through them!
I have two other appearances planned in the next few months, too:
October 10th and 11th at MPIBA Fall Discovery Show in Denver, Colorado. This is an event for independent booksellers.
November 6th through 9th at World Fantasy in Washington, D.C. My first time in D.C.! I'm excited to do the con through the weekend and cap it off with touristy meandering.