This week, as I dash off to WorldCon, I share a re-do of a Biscoff Oreo Blondies recipe I first featured on my LiveJournal back in 2013. I modified it from the original Peanut Butter Oreo Blondies at Crepes of Wrath.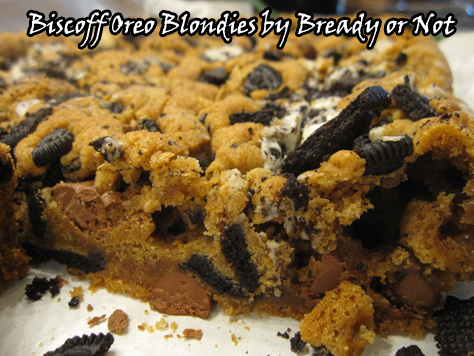 But this time when I made it, I modified it more. MORE OREOS. MORE CHOCOLATE CHIPS. MORE HAPPINESS.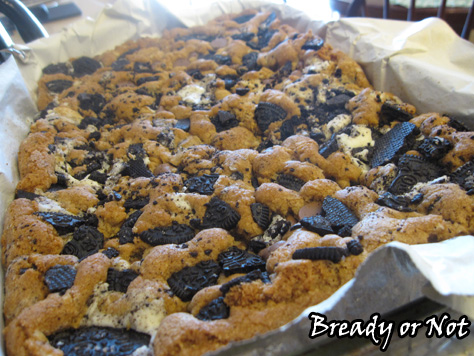 I love Biscoff spread (also known as Speculoos at Trader Joe's). It's crack in a jar. If you're not familiar with it, it's cookie butter: yes, really, the consistency of a nut butter, but made of cookies.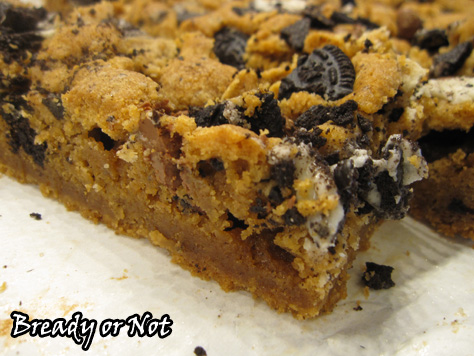 Yeah. This is not health food. It ain't gluten-free, either.
If it's paleo, I want to join that tribe.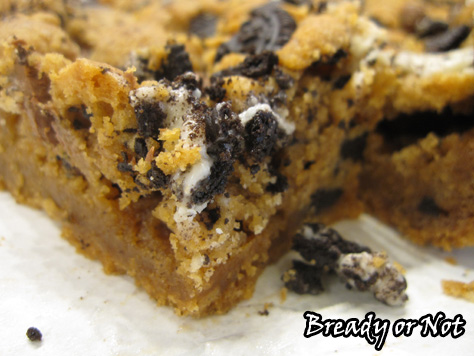 If you don't like Biscoff (BLASPHEMER! BEGONE!) or can't find it (though it's at a lot of Wal-marts, Targets, and World Markets), you can substitute nut butter for this recipe, too. Not the natural type, though. You want it moister.
Oh yeah. I used Double-Stuf Oreos, too. Because those are the best kind.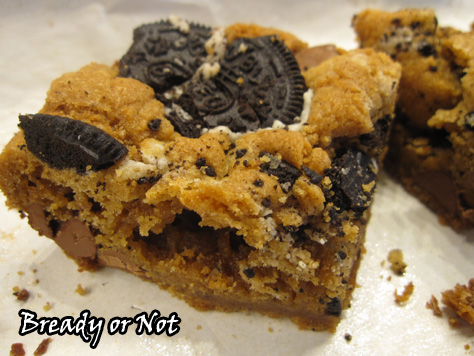 The end result is a luscious, thick, chewy bar that's like a cookie on steroids. Cookie butter does that to baked goods. It's magic.
Mix up the add-ins if you want. Use dark chocolate. Use different kinds of Oreos or different cookies all together.
Live dangerously. And scrape clean that Biscoff jar when it's empty.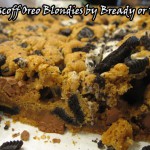 Print Recipe
Bready or Not: Biscoff Oreo Blondies (Redux)
Luscious, chewy bars. The baked-in cookie butter complements the smooth chocolate chips and the crunch of Oreos! An all-time favorite of Bready or Not.
Ingredients
2 1/2

cups

all-purpose flour

1 1/2

teaspoon

baking powder

1/2

teaspoon

baking soda

1

cup

brown sugar

packed

1

cup

white sugar

1/2

cup

unsalted butter

1 stick, melted

2/3

cup

Biscoff spread

or other cookie butter brand

2

large eggs

room temperature

2

teaspoons

vanilla extract

2

cups

Oreos

roughly crushed

1

cup

chocolate chips
Instructions
Preheat your oven to 350-degrees. Line a 9x13 pan with aluminum foil or parchment and apply nonstick spray.

Whisk together your flour, baking powder, and baking soda. Set aside.

In a large bowl, beat together the sugars and melted butter. Add cookie butter and mix to combine. Add in the eggs, one at a time, beating after each addition, then the vanilla extract. Gradually add in the flour mixture, mixing until just moistened. The dough will be very thick. Fold in most of the Oreos and chocolate chips; save some to make the top pretty, if you want.

Press the thick dough into the pan as evenly as possible. Press in the remaining Oreos and chips.

Bake for 24-30 minutes, until the blondies are lightly golden and set.

Allow them to cool completely before cutting into bars and serving. These will keep well in an airtight container at room temperature for up to a week, if they last that long.

OM NOM NOM!