Continuing the breakfast theme for the month, we now venture into the realm of chocolaty goodness with these Chocolate Almond Biscotti.
These taste like brownies… brownies that are firm enough to dip into coffee or hot chocolate or tea or your waiting mouth.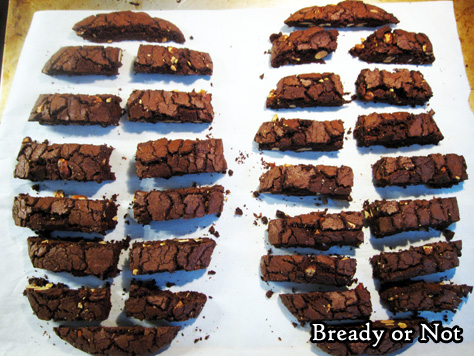 Almonds go wonderfully with chocolate–a lot of candy bars are proof of that–though they do complicate this recipe in one way. They get stuck on the knife blade when the biscotti are chopped apart.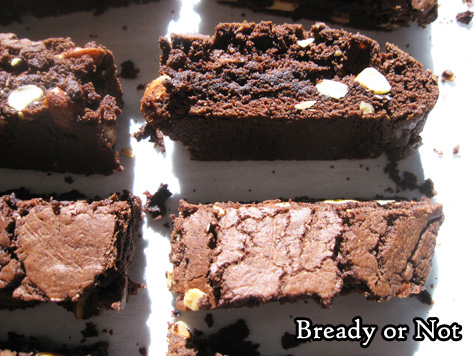 The good news is, the biscotti at still kind of soft then, so you can press them back together a bit–just don't burn your fingers!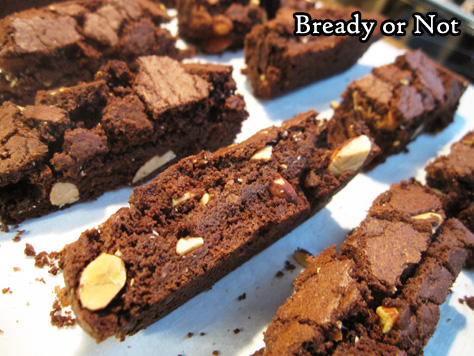 I can't say I mind that some chocolate crumbles and almond bits are left on the cookie sheet, either. Oh darn. Can't let those go to waste.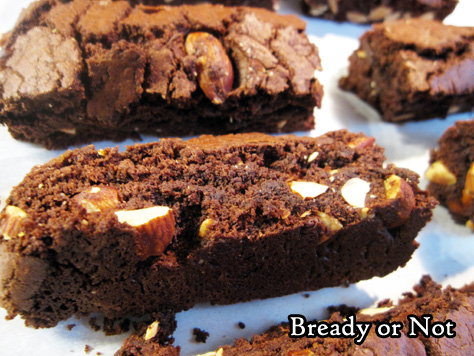 Do check out other biscotti featured on Bready or Not: Maple Walnut White Chocolate Biscotti and Snickerdoodle Biscotti.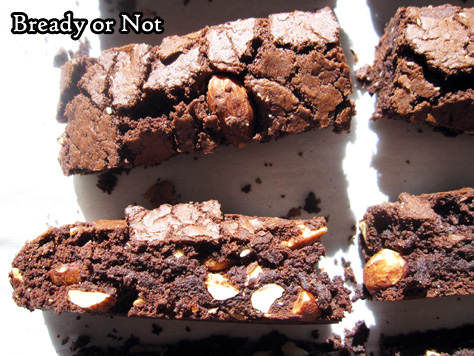 This new recipe was modified from the original at McCormick.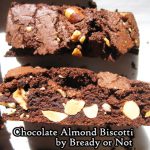 Print Recipe
Bready or Not: Chocolate Almond Biscotti
These easy-to-make biscotti taste like brownies! Almonds add a wonderful crunch and complementary flavor.
Ingredients
1 3/4

cups

all-purpose flour

3/4

cup

unsweetened cocoa powder

sifted

1

teaspoon

baking powder

1/4

teaspoon

salt

4

ounces

semi-sweet chocolate

1/2

cup

unsalted butter

1 stick, softened

1 1/4

cups

white sugar

2

eggs

room temperature

1

teaspoon

almond extract

1

cup

almonds

coarsely chopped
Instructions
Preheat oven to 325-degrees. Prepare a large baking sheet with parchment paper. In a medium bowl, mix the flour, cocoa powder, baking powder, and salt; set aside.

Melt the chocolate in the microwave, using short, careful bursts. Once it is melted, set aside to cool for a few minutes.

In a large bowl, beat the butter and sugar until light and fluffy. Add the eggs followed by almond extract. Scrape in the melted chocolate. Gradually mix in the dry ingredients, and add the almonds last.

Divide the dough in half. Drop each half onto the ready cookie sheet with lots of space between them. Use a spatula to shape them into logs roughly four inches across, eight inches long, and about an inch high.

Bake 35 minutes, until the logs spring back when gently touched.

Cool on stove top for 10 minutes. Use a sharp, serrated knife to chop the logs into 1/2-inch thick slices. The almonds will likely get stuck on the blade and cause the biscotti to crumble some; the biscotti is still somewhat soft, so try to wedge almonds back in and reshape the sticks. Do take care, as they are hot!

Place the slices upright, if they will stay, or lay them on their sides. Bake for another 20 minutes, flipping them halfway, if necessary.

Allow the biscotti to cool and dry out for several hours before placing them into sealed containers.

OM NOM NOM!