This repost from the Holy Taco Church features cookies made with a hefty dose of butter and then basted with more butter.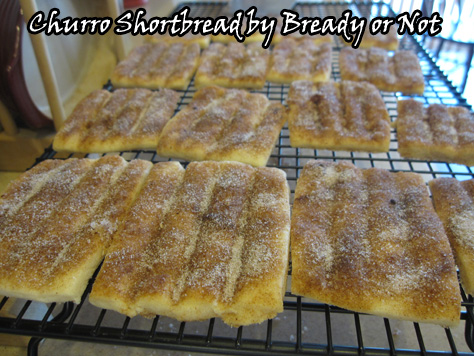 These look like churros but they taste like snickerdoodles. I found chopsticks quite handy for impressing the churro-esque lines into the tops of the cookies. You can also use skewers.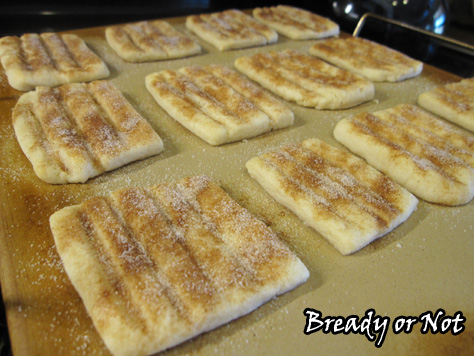 Superfine or caster sugar makes for smoother cookie dough. You can make finer sugar yourself by putting regular white granulated sugar in a high-powered blender or food processor and grinding it down more. Or just use regular white sugar; it'll make for a heavier cookie, but it will still be delicious.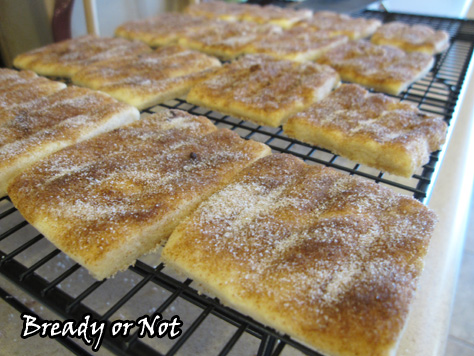 I tried double-soaking these in butter. As one does. This means I brushed on butter before and after baking, and dosed it with more cinnamon and sugar after each buttering. There was no difference in taste. Therefore, I say only do double butter if you need to use up some extra in your bowl.
Modified from Heat Oven to 350.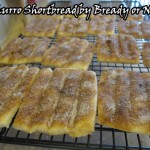 Print Recipe
Bready or Not: Churro Shortbread
These butter-soaked shortbread cookies look like churros but taste more like snickerdoodles! They keep well in a sealed container. The recipe makes a small batch, so double it if you're feeding a crowd.
Ingredients
2 1/2

cups

all-purpose flour

3/4

cup

caster sugar

or superfine sugar, or regular white sugar

1/4

tsp

salt

1

cup

unsalted butter

2 sticks, room temperature

2

Tb

cream cheese

room temperature

2

tsp

vanilla extract
Topping
2

Tb

unsalted butter

melted

1/4

cup

white sugar

3

Tb

cinnamon
Instructions
Whisk the flour, sugar, and salt together in a large bowl. Beat the butter into the dry mix until it looks crumbly. Toss in the cream cheese and vanilla and blend. The dough should form a large cohesive clump. (If you live in a dry locale, add a teeny bit of water, if need be, so it comes together.)

Lightly flour a surface. Roll out the dough as evenly as you can. Use a pizza slicer to cut the dough into cookie-sized rectangles. Line a cookie sheet with wax paper and set the cookies on it; if you stack them, put wax paper between the layers, or they will stick. Stash the cookies in the fridge for at least 15 minutes. This will keep them from spreading in weird ways when they bake.

Preheat the oven to 350-degrees. In a microwave-safe saucer or bowl, melt the two tablespoons of butter. In another bowl, combine the cinnamon and sugar for the topping.

Bring out the cookies and transfer them to a new cookie sheet. They shouldn't spread much so they don't need a lot of space between them. Use a chopstick or something similar to gently form ridges in the tops of the cookies; the chilled dough might crack, but just mush it together again if that happens. Use a pastry brush to apply the melted butter and then sprinkle on the topping as evenly as you can.

Bake cookies for 10-12 minutes. Remove from oven and immediately use your chosen tool to gently indent the tops of the cookies again. Let them cool another ten minutes and then transfer to a rack.

OM NOM NOM!