Am I still alive? Did I survive The Clockwork Dagger's launch into the world?
I don't know. In the interest of my sanity (hahahaha) I am scheduling this far in advance. I suspect I will be 1) exhausted, 2) exhilarated, and 3) terrified, with a potpourri of other emotions mixed in.
I mean, MY BOOK IS OUT. How crazy is that? I've only wanted to publish a book of my own since I was, oh, four. Thirty years later, here I am.
Pardon me while I go to hug my book again. It's real.
… ahem. Well, it's Wednesday, and it's Cake Month, so I suspect you want to see that Cinnamon Bundt Cake mentioned in the title, right? (I can shut up about the book for a little while. Honest.)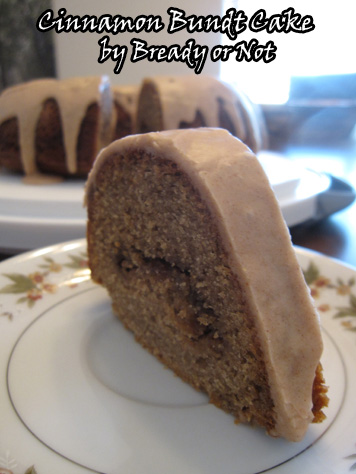 This is a gorgeous cake that'll slap you upside the head with cinnamon goodness.
The recipe doesn't produce a large bundt cake, but it'll still feed a crowd. This is one of those cakes that's awesome for breakfast, coffee breaks, dessert, or whatever other occasion you want to stuff a slice of cake in your face.
Now, you have a few options for the liquid in the recipe. The original version used Cinnabon creamer; instead, I used heavy cream and greatly increased the cinnamon. Therefore, toggle the cinnamon to your tastes. I love using flavored creamers in recipes like this, so I imagine the Cinnabon-branded one or any other would be delicious here, too.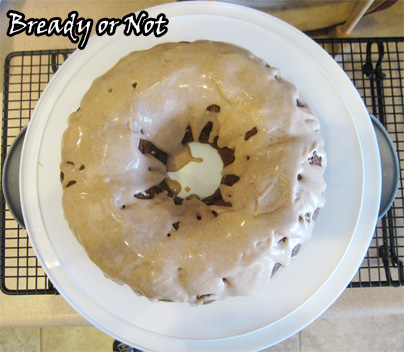 I guess I should make this again to test that theory out. Oh, darn.
Also, let's talk about the glaze. Please.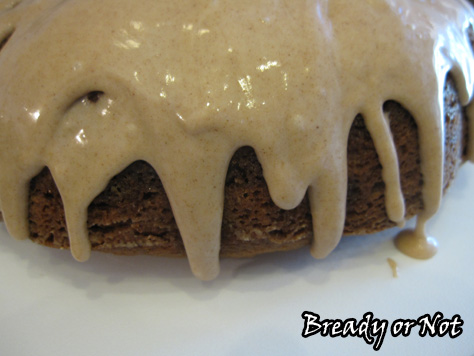 Okay, I really don't have much to say about the glaze. Sometimes a picture is worth a thousand words.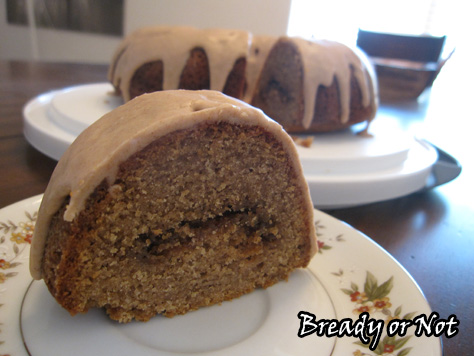 Modified from Cinnabon Bundt Cake at Shari Blogs.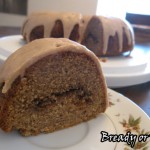 Print Recipe
Bready or Not: Cinnamon Bundt Cake
A luscious bundt cake with a surprise hidden inside.
Ingredients
For the Batter:
1

cup

brown sugar

packed

1

cup

canola oil

1

cup

heavy cream OR cinnamon-flavored creamer

3

eggs

room temperature

1 1/2

teaspoon

baking powder

1/2

teaspoon

baking soda

1

teaspoon

salt

1

Tablespoon

cinnamon

[reduce if using flavored creamer]

2 1/2

cups

all-purpose flour
For the Streusel:
1/2

cup

brown sugar

packed

2

teaspoons

cinnamon
For the Glaze:
1 1/4

cups

confectioners' sugar

4-6

Tablespoons

heavy cream or cinnamon-flavored creamer

1-3

teaspoons

cinnamon

to preference
Instructions
To make the bundt:
Preheat oven to 325-degrees. Thoroughly coat a bundt pan with non-stick cooking spray.

In a mixing bowl, combine the sugar, oil, cream/creamer, and eggs.

In a separate bowl, sift together the dry ingredients: the baking powder, baking soda, salt, cinnamon and flour.

Gradually add the flour mix into the wet batter until just combined.

In another small bowl, mix up the brown sugar and cinnamon for the streusel.

Pour half of the batter into the greased bundt pan. As evenly as possible, sprinkle the streusel all the way around the batter later. Top it off with the rest of the batter.

Bake the bundt cake for 45-50 minutes, until it passes the toothpick test. Let it cool for 15 minutes and then carefully tip the cake onto a plate. Transfer it to a wire rack to completely cool.
To make the glaze:
Once the cake is cool, mix up the glaze until it's at just a pourable consistency. Add the cinnamon to suit your tastes; sample it and check.

Dribble glaze all over the cake.
Store the cake covered in the fridge.